Consumer Electronics
Cutting-Edge Fashion
14 March 2017
Sponsored content
Using laser cutting machinery in the fashion world offers several advantages over more traditional processes -- not only for cutting fabric, but also for engraving, embossing, denim fading and other applications. Traditionally, the cutting and measuring process is time consuming and unforgiving. However, fashion designers can benefit from user-friendly, versatile, desktop laser systems and create patterns in less time and with more precision. There are other benefits over using mechanical cutting devices: Laser cutters do not become dull and require sharpening; potential damage to the materials is reduced; and waste is minimized.
CO2 lasers are generally the type of laser used for fabric cutting. The machine uses a very fine laser to cut a pattern into the fabric. The application of the laser increases the temperature, and the resulting vaporization causes the cutting. The application of inert gases during cutting prevents the charring and removes debris and smoke from the cutting area.
In synthetic fabrics, laser cutting results in well-finished, cauterized edges, because it melts and fuses the edge. There is no issue of fraying, which often occurs when conventional knife cutters are used.
Some designers may choose to cut complete sheets of fabric with an intricate design, and then use them as a template to cut patterns by hand. Others trace pattern pieces with vector lines into Adobe Illustrator files and cut them out along with a decorative pattern. Even intricate cut-out designs are easy to repeat using a laser.
While some designs are meant for fashion shows, museums or other special events, the commercial potential for laser-cut clothing is huge. One designer, Amy Karle, artist in residence at Autodesk, scans drawings into a computer program where they are scaled to fit on a human body. The design is then input into a laser cutter that cuts the design onto sheets of fabric. Put into mainstream retail use, the technology could help customers achieve the elusive "perfect fit" at long last.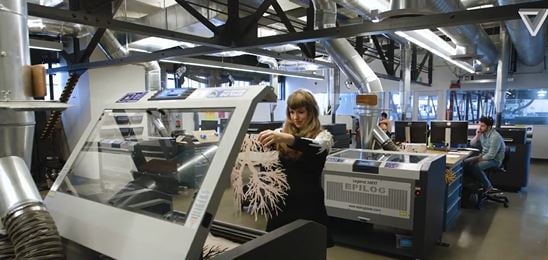 Using laser engraving for clothing design.
Lasers can also be used to engrave fabrics with logos or other designs, for example. Laser-engraved felt, fleece, and velvet produce interesting effects similar to embossing or branding. Leather, too, is increasingly embossed by laser cutters because of the precision and speed of the machines.
Overall, laser cutting is less expensive than conventional cutting methods. It offers exacting precision at very high speeds regardless of the complexity of the designs. Laser cutters are simple to operate and their ability to work with many different types of material makes them extremely versatile. Perhaps most importantly, they make the design process efficient, and offer designers excellent and repeatable quality.
Find Free Electronics Datasheets