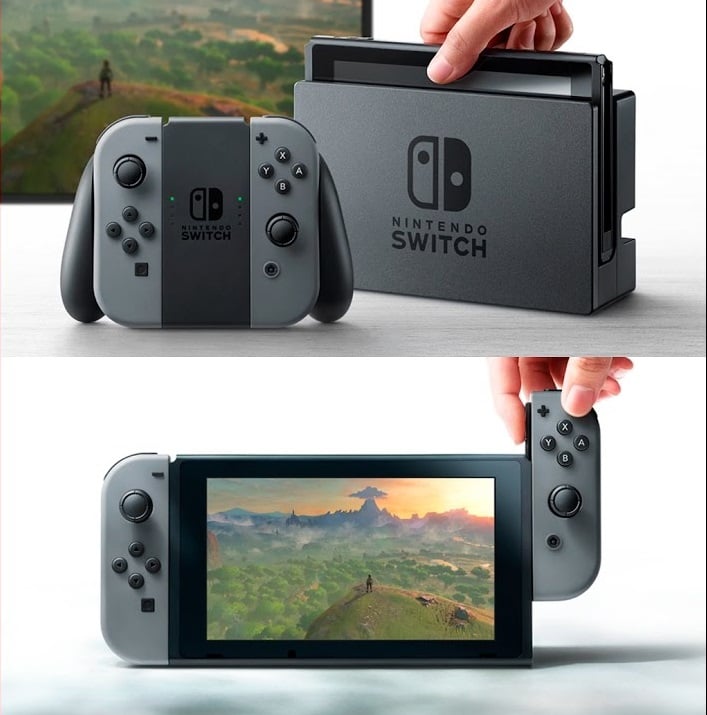 Nintendo's Switch is the latest gaming system from the company allowing players to play at home or become a mobile player for playing away from the house. Source: Nintendo Global chipmaker STMicroelectronics' semiconductors are powering the Nintendo Switch system, the latest gaming device from the company.
ST says its motion sensors, touchscreen controller IC, STM32 microcontrollers and NFC controller IC are found inside the Nintendo Switch, a gaming platform that can be played anywhere consisting of a console, two detachable controllers, charging grip and a dock.
ST's six-axis inertial sensors are embedded into the main console of the Switch that is used to respond to players' motions to control the games. The microelectromechanical system (MEMS) increases accuracy and resolution with a low-noise performance operating at very little power.
The capacitive touchscreen controller is mounted in the main console as well, combining an analog front-end and a digital signal process based on a microcontroller core, the IC enables multi-touch operation at a low-power consumption. The Switch also uses three STM32 32-bit microcontrollers embedded in the controllers, the charging grip and the dock of the main console for power management functions.
Finally, ST's NFC controller IC is embedded in the controller to enable Near Field Communication technology with Nintendo's amiibo accessories. This adds the ability to customize characters in supported games as well as deliver bonus content in games.