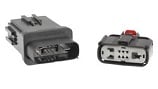 Molex has introduced its 
µPDB Custom Sealed Modules,
which suit customers looking to add or relocate power switching and circuit protection in vehicles. Fully customized to customers' needs, the modules utilize only the specific components and materials needed for the application.
The fully sealed and connectorized system enables mounting in multiple locations within the vehicle, including high-vibration and harsh environments. Modules are fully USCAR-2 specified and IP6k7 rated and feature an operating temperature range of -40° C to +125° C (-40° F to +257° F), making them applicable for use in passenger cars and trucks, off-highway equipment, motorcycles, recreational vehicles, ATVs, snowmobiles, boats and personal watercraft.
By packaging relays and fuses close to the application, the need for long wire runs back to the power distribution board is eliminated, saving space and cost and avoiding potential wiring errors. Modules are stackable for further convenience and savings in areas with strict space limits.