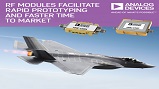 Analog Devices, Inc.
(ADI) has introduced four high-performance RF and microwave standard modules that extend and strengthen its standard module product portfolio. The modules complement ADI's existing product offerings by delivering easy-to-use, fully integrated, hermetically sealed solutions that dramatically shorten the proof-of-concept phase of the design cycle and help reduce the overall in-house technical support needed to assemble, test and validate a design.
Unlike many other module manufacturers, ADI uses its own monolithic microwave integrated circuits in each module, which guarantees consistent high quality, reliability and performance in any application.
Representative of the new modules is the HMC-C582, a gallium arsenide, high-electron mobility transfer power amplifier in a miniature, hermetic module that operates between 0.01 GHz and 20 GHz. The amplifier provides typically 24 dB of gain, up to 36 dBm output IP3, and up to 26 dBm of output power at 1 dB gain compression.
The HMC-C582 exhibits gain flatness over its 0.01 GHz to 20 GHz operating range, suiting the module for electronic warfare, electronic countermeasures, radar, fiber optic and test equipment applications. 
"ADI's comprehensive portfolio of standard module products allows our customers to construct quickly and easily a fully operational prototype in less than half the time it takes to design and build from a clean sheet of paper," said Bryan Goldstein, general manager of the Aerospace and Defense Business Unit, Analog Devices, in a statement. "These hermetically sealed, high-reliability products allow our customers to provide rapid prototype demonstrations and deliver these products into commercial and military flight systems as production-ready components."
Goldstein added, "If required, ADI can perform additional levels of screening, such as radiation hardening to ensure complete compliance for space-related applications."