Volkswagen is looking far into the future of autonomous driving, with its fully autonomous, fully electric concept car that operates without a steering wheel, pedals or even a cockpit.
Sedric, short for self-driving car, is summoned with the push of a button, and it comes to your location. Sedric also lacks a traditional hood, and the electric engine is positioned at wheel height with the flat battery unit mounted between the axles. Because it lacks a traditional driving cockpit, the interior looks more like a shuttle, where four passengers can use the travel time to work, use their phone, talk or just relax.
The goal of the concept vehicle is to present a car that could represent the future of autonomous driving with a completely different design and function from many of the current vehicles being developed for self-driving today. Volkswagen says the concept car will be the basis for future generations of purely electric vehicles developed by the company.
Because the electric, emission-free vehicle is fully autonomous, Volkswagen says it will provide a greater amount of safety and personalized mobility for everyone. Children will be able to use the car as easily as adults or seniors since the driving is done by the vehicle itself.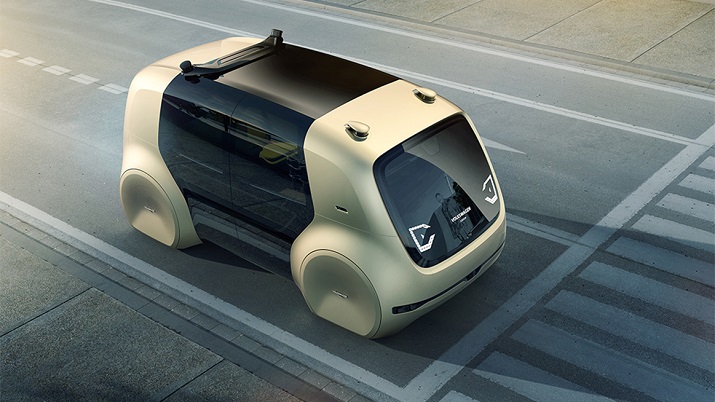 Without a cockpit, steering wheel or pedals, Sedric offers comfortable autonomous riding for up to four people. Source: Volkswagen "Unlike a person, a self-driving car is always wide awake, never distracted and never tired," says Matthias Müller, chairman of the board of management at Volkswagen.
Sedric will also promote ride sharing as those that do not want to buy a car or cannot buy one will be able to use Sedric vehicles with an app that can summon the vehicle. Sedric owners can also share the vehicle with family, friends or neighbors, Müller says.
Volkswagen plans to spend several billion dollars on the core technology for autonomous driving and artificial intelligence in the coming years in order to take advantage of the changing trends in technology and competition in the self-driving space. VW has already announced its plan to introduce 30 new electric vehicle models by 2025, and to roll out 2 to 3 million all-electric cars each year, but it is unclear if Sedric will be one of these models.