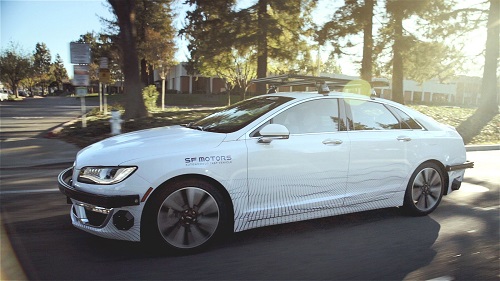 SF Motors' prototype autonomous vehicle in development. Source: SF MotorsSF Motors, a startup funded by Chinese automaker Chongqing Sokon Industry Group, says it has started test driving autonomous vehicle technology on public streets in Silicon Valley after receiving a permit from California's Department of Motor Vehicles (DMV).
SF Motors joins a growing list of companies that have applied for and received a permit from the state's DMV. There are more than 50 companies that have received permits to test self-driving cars in California including Waymo (Google), Tesla, Nissan, Honda, Volkswagen, Daimler, Apple, Nvidia, Uber, Lyft, AImotive, Drive.ai, Faraday Future, Telenav, GM and more.
SF Motors recently finalized a multi-year agreement worth $2.5 million with the University of Michigan to conduct proprietary joint research on advanced automotive driving systems. This agreement led to development of sensor fusion, multi-object detection and tracking and high-performance vehicle motion control. Testing is being conducted in California and Michigan to further research self-driving technologies.
"On the heels of receiving our autonomous vehicle test permit in California, we believe this is the ideal time to begin putting our research to the test as we prepare to unveil our intelligent electric vehicles equipped with advanced autonomous and connectivity systems," says John Zhang, CEO of SF Motors.
SF Motors says it is expected to achieve protected autonomy in 2020 through deep learning, sensor fusion, path planning, human-machine interface, safety and redundancy and vehicle electronics. The company is also testing autonomous vehicles on the roads in China with the company planning to publicly unveil its intelligent electric concept car for global markets later this month.