Solar energy provider SolarCity has already developed aesthetically pleasing solar roof tiles. But the next step in solar could be even more seamless and efficient: Solar windows.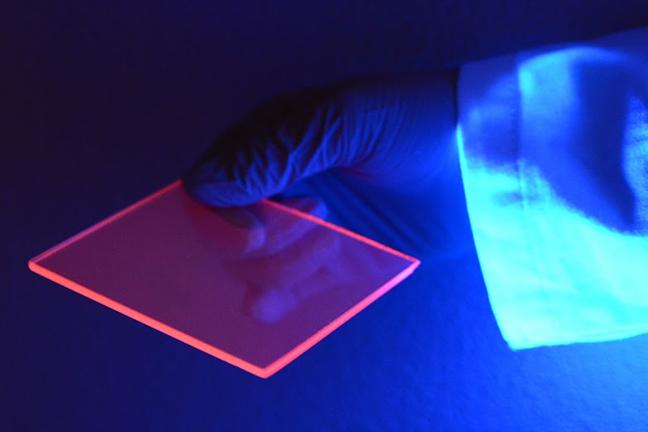 A silicon-based luminescent solar concentrator under black light, spotlighting how the light waves congregate toward the edges. / Photo credit: Patrick O'Leary, University of MinnesotaWindows have long been the primary tool of passive solar applications, harnessing the power of the sun for natural light and warmth during the day. Now, researchers at the University of Minnesota and University of Milano-Bicocca have developed technology that could transform ordinary looking windows into active solar arrays. The windows use high-tech silicon nanoparticles embedded in the glass as efficient luminescent solar concentrators (LSCs), which collect the useful frequencies of light. Photovoltaic cells hidden in the window frame then convert that light into useful energy to power homes and businesses.
The Next Frontier in Renewable Energy Technology
These photovoltaic windows can increase a building's capacity for energy generation, expanding solar capabilities beyond the rooftop in an aesthetically pleasing manner. Passsersby will see no difference between PV windows and regular windows.
Silicon Particles Make Solar PV Windows Affordable, Environmentally Safe
Prior research to integrate solar concentrators and solar cells into building design used complex nanostructures based on cadmium, lead, or indium. The prior two are potentially toxic, while the latter is rare and expensive. Silicon, on the other hand, is abundant, affordable, and non-toxic.
How It Works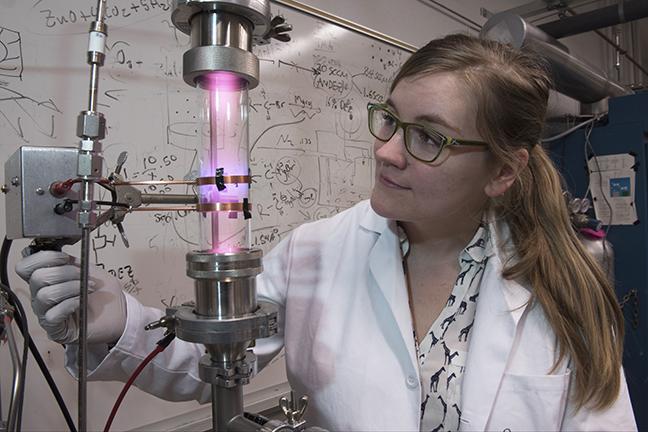 University of Minnesota researcher Samantha Ehrenberg uses a plasma reactor to create silicon nanoparticles. / Photo credit: Uwe Kortshagen, College of Science and EngineeringThe key to using silicon in solar windows involves the ability to turn silicon into a light emitter by shrinking the silicon crystals to a few nanometers.

"At this size, silicon's properties change and it becomes an efficient light emitter, with the important property not to re-absorb its own luminescence. This is the key feature that makes silicon nanoparticles ideally suited for LSC applications," said University of Minnesota mechanical engineering professor Uwe Kortshagen, in an article on the University of Minnesota website. He is the inventor of the process for creating silicon nanoparticles and one of the senior authors of the study.

The silicon nanoparticles are produced in a high-tech process using a plasma reactor and formed into a powder.

"The powder is turned into an ink-like solution and then embedded into a polymer, either forming a sheet of flexible plastic material or coating a surface with a thin film," Samantha Ehrenberg, a University of Minnesota mechanical Ph.D. student and another first author of the study.

Funding for the research study includes a grant from the U.S. Department of Energy (DOE) Office of Basic Science Center for Advanced Solar Photophysics, an Energy Frontier Research Center and a grant from the European Community's Seventh Framework Programme. Ehrenberg also received funding from a National Science Foundation (NSF) Fellowship and the Benjamin Y.H. and Helen Liu Fellowship.
The research is published
today in Nature Photonics
, a peer-reviewed scientific journal published by the Nature Publishing Group.