New Dye-sensitive Solar Cell
A new dye-sensitive solar cell (DSSC) that absorbs both visible and infrared light has been developed by a team of researchers at the Agency for Science, Technology and Research (A*STAR) in Singapore.
DSSCs are a promising approach in the quest to harness solar energy because they are easier to manufacture than conventional silicon solar cells. However, they are not as efficient, and research to improve efficiency has had limited success.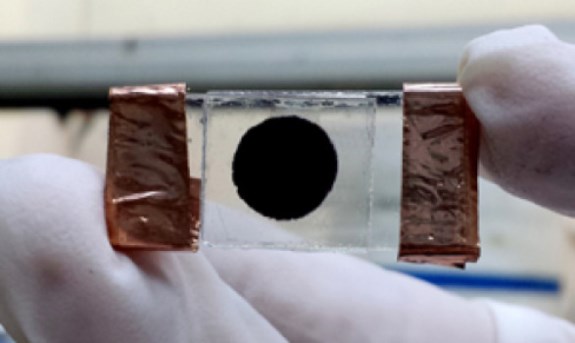 Zinc porphyrin dyes were used to create solar cells that can absorb both visible and near-infrared light. (© A*STAR Institute of Materials Research and Engineering)
Traditional DSCCs were built using ruthenium-based materials; since 2011 DSSCs have been manufactured using a structure consisting of an atom of zinc surrounded by a disc-shaped molecule called porphyrin. This new dye, called YD2-o-C8, converts visible light into electricity with an efficiency of up to 12.3 percent. In a paper published by the Journal of the American Chemical Society, Jishan Wu and his colleagues at the A*STAR describe the devlopment of two new dyes, WW-5 and WW-6, based on YD2-o-C8 dye. The new dyes collect both visible and infrared light to produce electrons for conduction.
The new dye structure consists of a zinc-porphyrin core surrounded by rings of fused carbon and bridged by a nitrogen atom. The new structure's efficiency is less than the YD2-o-C8 solar cell, but the fact that it can harvest two ranges of light in the spectrum shows considerable improvement. The WW-5 and WW-6 cells absorb more infrared light than the YD2-o-C8 cells, but are slightly less efficient at converting visible light into electricity.
"We are now trying to solve this problem through modifications based on the chemical structure of WW-5 and WW-6," says Wu. "The top priority is to improve the power conversion efficiency. Our target is to push the efficiency to more than 13 percent in the near future."
Steam Energy Directly from the Sun
Researchers at the Massachusetts Institute of Technology (MIT) have developed a new material structure that when subjected to sunlight under certain conditions produces steam.
The structure exists on a layer of graphite flakes with underlying carbon foam. The foam is a porous and insulating material that floats on water. When sunlight impinges on this structure, a hotspot in the graphite is created, pulling water up through the porous foam. The water that reaches the graphite evaporates as steam. The amount of steam is proportional to the brightness of the incident light.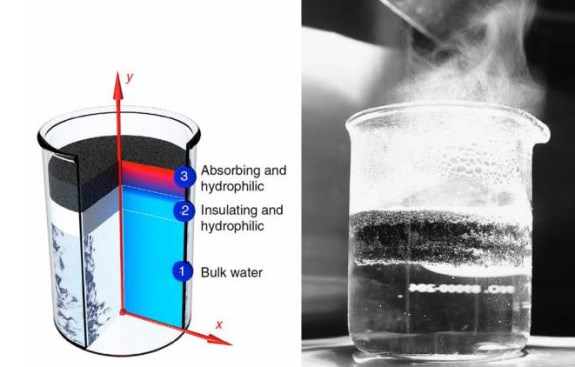 On the left, a representative structure for localizing heat; the structure cross section and temperature distribution. On the right, a picture of enhanced steam generation by the DLS structure under solar illumination. (© MIT)
The research, headed by Hadi Ghasemi, who is a postdoc at MIT, found that the structure can convert 85 percent of solar energy into steam. This efficiency is much greater than conventional solar-powered steam generators. Moreover, the system loses a very small amount of heat during the process, making it capable of producing steam at a low solar intensity. This means that the structure will not need expensive solar concentrators.
"Steam is important for desalination, hygiene systems, and sterilization," says Ghasemi. "Especially in remote areas where the sun is the only source of energy, if you can generate steam with solar energy, it would be very useful."
Currently, solar-powered steam generation involves structures that need a field of mirrors or lenses to concentrate the incoming sunlight.. Recently, some researchers have developed more efficient solar receivers using nanofluids, a mixture of water and nanoparticles that when exposed to sunlight produces steam by vaporizing water molecules. However, a light intensity of 1,000 times that of an average sunny day is required to initiate the reaction. The MIT structure generates steam at levels of about 10 times the average of a sunny day.
"This is a huge advantage in cost-reduction," Ghasemi says. "That's exciting for us because we've come up with a new approach to solar steam generation."
Ghasemi and his team reported the finding in the journal Nature Communications in an article published on July 21, 2014.