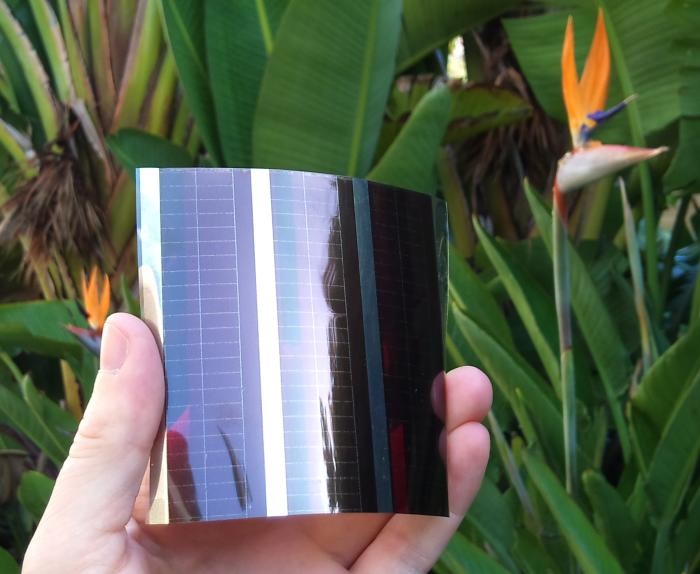 Printed solar cells made of flexible plastic could be grafted to clothing or mobile devices to provide an unlimited power source. Source: University of Melbourne
Researchers at the University of Melbourne have developed a technique to print photovoltaic solar cells on plastic A3-sized sheets that are flexible, moldable and semi-transparent. The printed solar cells could be a major breakthrough in bringing limitless energy to new applications for windows, clothing, mobile devices, cars and homes.
The Australian-based researchers collaborated with Monash University, CSIRO Manufacturing Flagship and an industry consortium called the Victorian Organic Solar Cell Consortium (VICOSC) to produce a potentially cheap way to manufacture solar cells that would not be limited by their size, rigidity or cost—all of which plague traditional silicon-based solar panels.
Initially the University of Melbourne researchers created 10 square centimeter cells that managed about 2% efficiency, but more recently the team was able to create organic solar cells that manage a range between 8% and 9.3% efficiency. This is approaching the international benchmark of 10% efficiency, but the researchers have managed to boost efficiency in a lab setting with hybrid cells to 18%.
While not yet a viable option for commercial deployment, when appropriate efficiency is achieved, a printed solar cell on a plastic A3-sized sheet could be produced for less than $10 a meter, researchers say.
How They Did It
The team at the University of Melbourne developed "nematic" liquid crystals that have an improved charge transport, which then leads to improved organic solar cell performance. These nematic liquid- crystal solar cells are also easier to manufacture.
The breakthrough in printed solar cells was the result of this close collaboration between the various working groups. Different pieces of equipment were located at different locations, such as CSIRO having one bit of equipment to manufacture part of the cells while VICOSC had the printing equipment at a different location. The researchers had to move from lab to lab in order to keep all aspects of the project moving forward.
The next step in testing the printed solar cells will be to find partners in the U.S. to collaborate. Researchers say they need a push from either industrial investors or venture capitalists in order to get the product to a point where it could be manufactured. The team noted that the move to the U.S. was necessary because Australia tends to be a bit more conservative when it comes to these types of projects.