Finding alternatives to solar cell manufacturing is seen as an important step toward not just accelerating adoption of solar power on a large scale but also as a way to reduce the costs of manufacturing these devices, which is often an energy-intensive process that generates large amounts of hazardous solvents.
Researchers at the University of Toronto have recently cleared a key barrier to large scale manufacturing in the form of low-cost printable perovskite solar cells, a technology that could potentially turn nearly any surface into a power generator.
Perovskite solar cells allow manufacturers to use the same techniques already established in the printing industry to produce solar cells at a very low cost. The combination of perovskites and silicon cells can improve efficiency further and while using low-temperature processes, researchers say.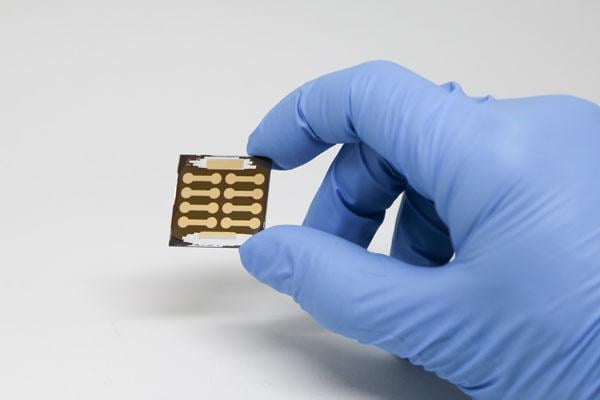 Perovskite solar cells have achieved an efficiency of 20.1 percent and can be manufactured at low temperatures to reduce cost. Source: University of Toronto Perovskite solar cells depend on a layer of tiny crystals—the width of about 1,000 times smaller than human hair—made of low-cost, light-sensitive materials. The materials can then be mixed into a liquid to form "solar ink," which could then be printed onto glass, plastic or other materials using a simple inkjet printing process.
Generating Electricity
One of the key challenges to the development of perovskite solar cell devices was the ability to generate electricity. In order to generate electricity, electrons excited by solar energy must be extracted from crystals so they can flow through a circuit. This is done at the electron selective layer (ESL). However, because the most effective materials for making ESLs start as a powder, it has to be baked at high temperatures otherwise it would melt on a sheet of flexible plastic or other materials.
The University of Toronto developed a new chemical reaction that allows for an ESL made of nanoparticles in solution, directly on top of the electrode. When heat is required, the process stays below a much lower melting point than many plastics. The nanoparticles are coating with a layer of chlorine atoms that help bind to the perovskite layer on top and allows for the extraction of electrons.
Researchers say they were able to generate 20.1 percent efficiency of these solar cells using this process, which they claim is the best ever reported. The cells also were able to retain more than 90 percent of their efficiency after 500 hours of use.