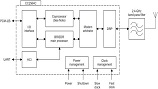 Texas Instruments' CC2564C Bluetooth controller. Source: Texas Instruments. Mouser Electronics, Inc., is now stocking the CC2564C Bluetooth® controller from Texas Instruments (TI). Designed as a complete, single-chip Bluetooth controller with Bluetooth basic rate (BR), enhanced data rate (EDR) and low energy (LE) support, TI's CC2564C reduces design effort and enables faster time to market. The device ships with a royalty-free, dual-mode Bluetooth software stack for use with both microcontrollers and microprocessors that include multiple profiles with enhanced quality of service (QoS) and sample applications.
The 
TI CC2564C
 Bluetooth controller, available from Mouser Electronics, is based on TI's seventh-generation Bluetooth core, and includes several on-chip peripherals that enable easy communication with a host system and the Bluetooth BR, EDR, and low-energy core. The device is Bluetooth 4.2 component qualified and, when coupled with a microcontroller unit, offers best-in-class 
radio frequency
 (RF) performance with approximately twice the range of other Bluetooth low-energy solutions.
The CC2564C incorporates a host of 
power-management
 hardware and software algorithms that provide significant power savings and help to extend battery life. The 
low-power
 device offers advanced power management functionality, as well independent buffering and built-in coexistence and prioritization handling for BR, EDR and low energy.