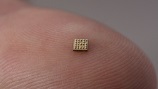 The EM9304 is reportedly the smallest Bluetooth chip available. Source: Swatch. Swiss-based Swatch Group has introduced a Bluetooth chip, designed by EM Microelectronic, Swatch Group R & D and the Swiss Center for Electronics and Microtechnology (CSEM), that is reportedly the smallest available. The chip consists of more than 5 million transistors on a surface of about 5 mm2.
The EM9304 is a tiny, low-power, integrated circuit (IC) optimized for Bluetooth® v5.0 low-energy enabled products. The chip's flexible architecture allows it to act as a companion IC to any ASIC or MCU-based product, or as a complete system-on-chip (SoC). Custom applications can execute from one-time-programmable (OTP) memory, and digital peripherals (SPI or I2C) can be used to interface with external devices such as sensors, memory, display or touch drivers. A floating point unit can be exploited to implement advanced algorithms such as sensor fusion.
Included in ROM is a Bluetooth v5.0 link layer with a host controller interface (HCI), a Bluetooth v5.0 stack with proprietary application controller interface (ACI), several profiles and over-the-air firmware (FOTA) updating routines. The Bluetooth low-energy controller and host can be configured to support up to eight simultaneous connections. Secure connections and extended packet length are also supported per the Bluetooth v5.0 standard.
The EM9304 includes configuration options that allow for optimum performance for any given application. A stable, low-power sleep oscillator (RC or crystal based) minimizes power consumption while in a connected state.
The EM9304 also features a state-of-the-art 2.4 GHz transceiver: an extremely low-power receiver with excellent sensitivity/selectivity, and a programmable transmitter for optimized output power and current consumption.
The chip's PCB footprint and cost is minimized with a very low external component count and several package options. The circuit is offered in a WLCSP-21 wafer level chip-scale package, a plastic QFN-28 package, and bare die/wafer form. The device and reference design is qualified over the industrial temperature range.