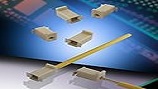 58-9296 Series Vertical Poke-Home Connector. Source: AVX AVX Corporation has released what is reportedly the first vertical connector able to successfully bridge the gap between soldering processes and expensive, but exceedingly reliable, two-piece connector systems in high-volume, 18 AWG applications with perpendicular terminations and limited board space, including: power supplies, LED drivers and industrial and motor controls.
Featuring a stamped and formed phosphor bronze box contact that maximizes both board attachment and wire capturing strength, the vertical poke-home connectors are 23 percent smaller than existing vertical connector solutions. The connectors can fit into the extremely tight spaces between larger, densely populated plated through hole (PTH) components, and have tight tolerances in critical areas to minimize the potential for ingress resulting from the secondary potting or epoxy encapsulation employed to protect industrial electronics from water and other harsh environmental hazards.
The series' robust, single beam, phosphor bronze box contact securely captures and retains solid, 18 AWG wires; exhibits excellent spring performance, high fatigue and corrosion resistance; and reliably withstands the mechanical and environmental stresses associated with large, 18 AWG wires in industrial applications, including: industrial machine controls, power supplies, motors, drives, solenoids, sensors, fans and pumps; commercial building controls and security and fire sensors; smart grid meters, breakers and panels; and SSL/LED drivers, fixtures, signage and streetlights.
Rated for 8 A, 600 VAC and operating temperatures spanning -40°C to +130°C, the 58-9296 series connectors also feature lead-free, tin plating that enhances corrosion resistance and contact strength, dual solder tabs that effectively anchor the connector onto PCBs and, instead of costly Kapton® tape, an integral molded flange with a generous vacuum pick-up point for automated SMT placement. The RoHS compliant series is also rated for three-cycle durability, allowing for up to two wire replacements over the product's lifetime, and is packaged on tape and reel.