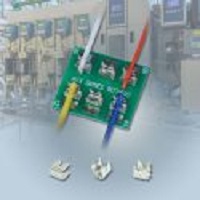 New additions to the STRIPT family of UL-approved, insulator-less single contacts from AVX Corporation provide users with a cost-effective solution for quickly, easily and reliably terminating individual high-current or high-voltage solid or stranded wires onto a PCB using a proven, gas-tight contact system. The company has unveiled STRIPT™ 9177-500 Series single IDC contacts for 12–18AWG wire-to-board terminations in harsh industrial, transportation, outdoor and alternative energy applications.
Designed to support large wire gauges from both a robustness and current rating perspective, the new 9177-500 Series single IDC contacts enable UL-certified wire-to-board connections up to 15A and 600V and are built to withstand extreme temperatures, shock and vibration. The ultra-reliable cold-welded connections realized are also compatible with potting and overmolding encapsulation processes, allowing users to further protect the electronics from extreme environmental conditions, including water ingress.
The contacts are ideal for use in solar and other alternative energy systems, outdoor and transportation lighting, commercial building wiring and electrical systems, and industrial motor controls, drives and pumps. Each proven phosphor bronze IDC contact in the 9177-500 Series features a redundant contact system for enhanced wire retention and high current-carrying capabilities, provides resilient, fatigue-resistant performance and is dimensionally matched to 12, 14, 16 or 18AWG to ensure impregnable cold-welded connections between the wire and contact in harsh environment applications.
The product launch is intended to bridge the gap between extremely low-cost but unreliable hand soldering and reliable, but much larger and more expensive two-piece insulated connector solutions.
The new STRIPT 9177-500 Series single IDC contacts for 12–18AWG solid or stranded wires feature phosphor bronze contacts with pure tin over nickel plating and are rated for 15A, 600VAC, temperatures spanning -40° C to +125° C and three termination-cycle durability.