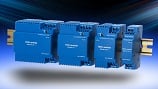 DRL AC-DC DIN Rail mount power supplies. Source: TDK-Lambda TDK Corporation has introduced the TDK-Lambda brand DRL AC-DC DIN Rail mount power supplies. With efficiencies of up to 90%, waste heat has been reduced, allowing for the use of very narrow-width package sizes ranging from 18 mm for the 10 W, to 72 mm for the 100 W model. Less space on the rail provides additional room for other components or the use of smaller enclosures. The DRL series is suited for industrial applications including building and factory automation, security, process control, and test and measurement.
The DRL series has an operating input range of 85 to 264 VAC, and can withstand 300 VAC for 5 seconds. The units have a Class II construction (double insulation) and do not require an earth ground connection. Input to output isolation is 3,000 VAC. Four power levels and case sizes are offered—10 W, 30 W, 60 W and 100 W—with a 24 V output in all package sizes, and a 12 V output for the 10 to 60 W versions. The 30 to 100 W models have user-adjustable outputs from either 12 V to 15 V, or 24 V to 28 V.
The convection-cooled units can operate in ambient temperatures from –20° C to +71° C with derating applying at high temperatures. The DRLs are housed in a robust plastic case and share a common depth of 55.6 mm and a height of 91mm. The 10 and 30 W models have an off-load power draw of < 0.3 W, with the 60 and 100 W at < 0.5 W.
All models are certified to UL/CSA 60950-1, IEC/EN 60950-1 and UL 508, with CE marking for the low-voltage, EMC and RoHS2 directives. Select models also comply with NEC Class 2 in accordance with UL 1310. All units meet EN55011/EN55022-B conducted emissions (Class A radiated), and comply with IEC 61000-3-2 harmonics and IEC 61000-4 immunity standards.