TDK Corporation has introduced the TDK-Lambda brand EVS constant current AC-DC power supplies. The board-style 300 W-rated models can operate without forced-air cooling, with the enclosed 600 W models having an internal cooling fan. These five-year warranty power supplies are ideal for charging batteries in energy storage systems, or for other applications requiring constant current outputs, such as water purification or plating.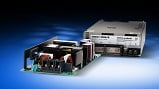 TDK-Lambda brand EVS constant current AC-DC power supplies. Source: TDK-Lambda
The EVS series will accept a wide 85 to 265 Vac input and has nominal 18V (300W only), 36 V and 57 V outputs for use with 12 V, 24 V and 48 V lithium ion, nickel hydride and lead-acid batteries. The float voltage is user- adjustable down to the nominal battery voltage, and the charging current can set from 50% to 100% of the rated current. Parallel operation is possible.
The units can operate in ambient temperatures ranging from –20° to 70° C with model-dependent derating. The 300 W model measures 3.31 in. x 1.65 in. x 7.09 in. and has an optional perforated cover, while the 600 W model measures 4.72 in. x 2.4 in. x 7.48 in. A remote on/off function can also be selected on both power levels.
An external, stand-alone, reverse protection module is also available, preventing backflow of current into the power supply from the battery. Rated at 20 A, 7 to 60 Vdc, the EVS-RP6020 uses a low-resistance MOSFET to reduce the voltage drop to less than 200 mV. This module is available as a board assembly or with a mounting bracket, measuring 1.97 x 1.02 x 3.05 in. and 2.36 x 1.26 x 3.68 in., respectively.
The power supplies have 3 kVac input to output, 2 kVac input to ground and 500 Vdc output to ground isolation. All are certified to UL/CSA/IEC/EN 60950-1 and carry the CE mark for the Low Voltage and RoHS2 Directives. The EVS complies with EN55011- and EN55022-B-conducted emissions, and the IEC 61000-3-2 harmonics and IEC 61000-4 immunity standards.