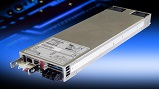 TDK Corporation has introduced the TDK-Lambda brand RFE2500 AC-DC power supplies. The 2500 W supplies come in a case measuring 107 × 41 × 345 mm, making them suitable for 1U high racking systems, and weigh just 2.5 kg. These supplies are suited for applications requiring 12 V, 24 V or 48 V bulk power.
The supplies are 90 to 93% efficient and have a universal input of 85 to 265 VAC. Applications include factory automation, test, measurement and broadcast/RF amplifiers.
Features on the RFE2500 include AC Fail; DC Good; remote on/off; remote sense; a 12 V, 0.5 A auxiliary supply; ±20% output voltage adjustment (by either front panel potentiometer, external resistance or a 0–5 V signal); and over-current set point programming. Up to eight units can be connected in parallel for higher power, and internal O-Ring FETs allow redundant operation.
The RFE series units can operate at full load in ambient temperatures of up to 50° C, and they can deliver 50% load at 70° C. They incorporate rugged screw terminal and bus-bar connections. Two internal temperature- controlled fans provide cooling.
Models with an "/S" suffix include an optional I2C/PMBus™ serial communications port for remote programming of the output voltage and remote on/off. In addition, the output voltage, output current, internal temperature and status signals can be monitored.
Input to output isolation is 3kVAC, with all models certified to UL/CSA 60950-1, IEC/EN 60950-1, and carrying the CE mark for the Low Voltage and RoHS2 Directives. All units meet EN55011/EN55022-B conducted emissions (Class A radiated) and comply with IEC 61000-3-2 harmonics and IEC 61000-4 immunity standards.