Over the last decade, the automotive industry has made significant changes. For starters, navigation is no longer considered a "luxury"; vehicles have become more energy efficient; and vehicles now even possess some self-awareness.
More recently, cars have become a lot smarter than they used to be and offer more control over other areas of drivers' lives. For example, companies like Ford are exploring linking smart devices such as Amazon Echo and Wink to vehicles to allow consumers to control lights, thermostats, security systems and other features of their homes from their car. These devices could also stop, start, lock and unlock a vehicle and check a vehicle's fuel range directly from the couch.
While auto evolution is making strides, a completely new kind of vehicle is about to hit the road—meet Olli.
A self-driving, 3-D-printed electric vehicle sporting IBM Watson's computing capabilities could be the next ride you hitch.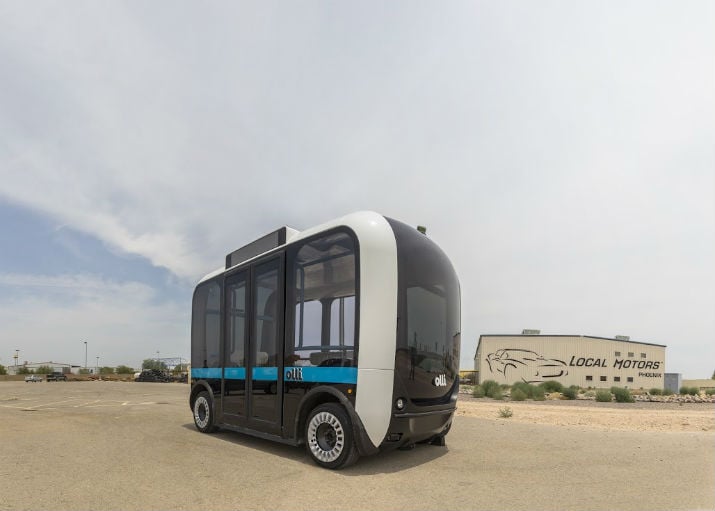 Meet Olli. (Image Credit: Local Motors)At least if you're near Washington D.C., Miami, or Las Vegas.
Local Motors, an Arizona-based company that focuses its vision on integrating the latest technology into vehicles, has put this new kind of vehicle into action.
Last year the company held a co-creation challenge in order to come up with a new and more efficient means of urban transportation.
The winner of that challenge was Olli—a vehicle that has now come to life and is ready to hit some city streets.
The vehicle, although equipped with a ton of technology, actually doesn't require much time to build. The first model was developed in just three months.
"It's actually much shorter because we use direct digital manufacturing and 3-D-printing. We don't have to tool up complicated machinery to make parts because we are able to print them," said Adam Kress, Director of Public Relations and Content at Local Motors.
The EV can transport a maximum of 12 passengers and includes IBM Watson Internet of Things (IoT) for Automotive, which extends the power of cognitive computing to connected vehicles and fleets, and acquires data from sensors and systems.
Olli is the very first vehicle to ever incorporate the cloud-based cognitive computing capabilities of IBM Watson IoT. With the help of its computing system, the vehicle can analyze and learn from sets of transportation data, which is captured by the 30 sensors that are found all over the car.
Local Motors will also employ an open-vehicle development process in which sensors will be added to adapt to passenger needs and local preferences.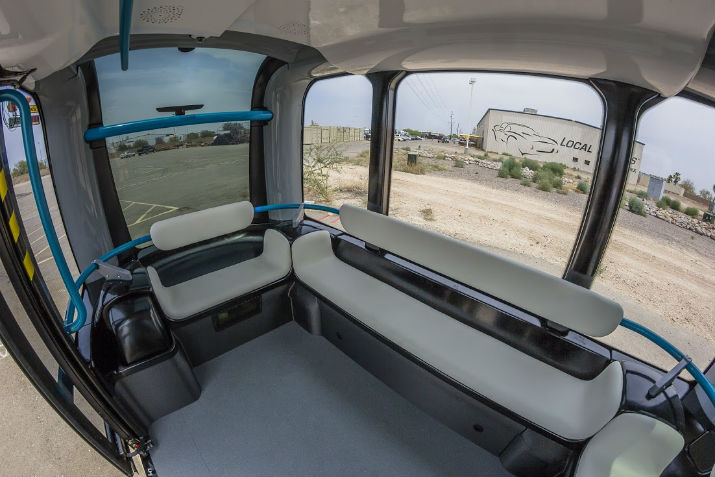 Inside Olli. (Image Credit: Local Motors)To help make the passenger experience comfortable, Olli also incorporates speech-to-text and text-to-speech functionalities, a natural language classifier, and entity extraction.
The company doesn't anticipate Olli will become an ordinary consumer vehicle. Instead it envisions Olli as more of a "shared vehicle."
"There are countless use cases for the vehicle, and we're working to market those. Imagine a rolling conference room, a party bus, a remote parking shuttle at an airport you can hail with your app, et cetera," said Kress.
According to Kress, Olli may find its niche at amusement parks transporting the attendees, as well as transporting students across college campuses.
En route, passengers will be able to interact with the vehicle—even have conversations with it—discussing topics such as how it works, destinations, or why Olli is making certain driving decisions.
At the core of Olli's abilities is Watson, which provides the ability to understand and respond appropriately to questions.
Passengers can ask Olli to take them to particular locations or even badger the vehicle (just like your child badgers you) with "are we there yet?" questions.
In addition, Olli is capable of providing restaurant and attraction recommendations based on passengers' preferences.
That's a lot of technology to pack into one vehicle.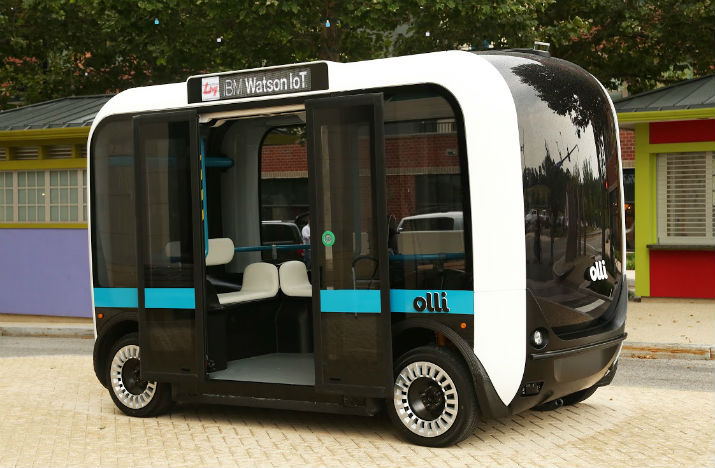 (Image Credit: Local Motors)"From an engineering standpoint, there is a whole lot of technology to integrate. Getting all the systems to talk to each other is always a challenge, but one we're up to," said Kress.
Kress emphasizes that Local Motors wishes to become a leader in technology integration within vehicles. Along with that task comes the challenge of ensuring passenger safety.
"We will hold several co-creation challenges to address safety and reliability concerns so that we are at the forefront of providing safe and reliable vehicles," he added.
The company has just opened a brand-new facility in Maryland where visitors can watch engineers 3-D-print vehicles firsthand. The facility will double as a vehicle showroom and an educational and research lab, where the public can learn more about 3-D printing, sustainability and autonomous technology.
While Local Motors is not disclosing vehicle costs at this time, it is set to launch its vehicles on the roads very soon. The first Olli will drive in National Harbor (near DC) later this summer, and then in Las Vegas and Miami later this year.