Researchers at the Nanyang Technological University (NTU) in Singapore have developed a way to build a flight-ready drone with all the necessary embedded electronics using 3-D printing.
The kicker is that it uses aerospace-grade thermoplastic fused deposition modeling (FDM) material—the same stuff that is used to make commercial aircraft. The material has a high strength-to-weight ratio as well as a high flame, smoke and toxicity (FST) rating, making it of particular interest in the aerospace market.
Creating a drone with embedded electronics using 3-D printing is a challenge because most electronics do not survive the high temperatures of the printing process, researchers say. Using Stratasys' 3-D printers, the commercial-grade electronics were modified and placed within the drone at various stages of the printing process and were able to survive in temperatures that reached more than 160° C, compared to the typical 80° to 100° C.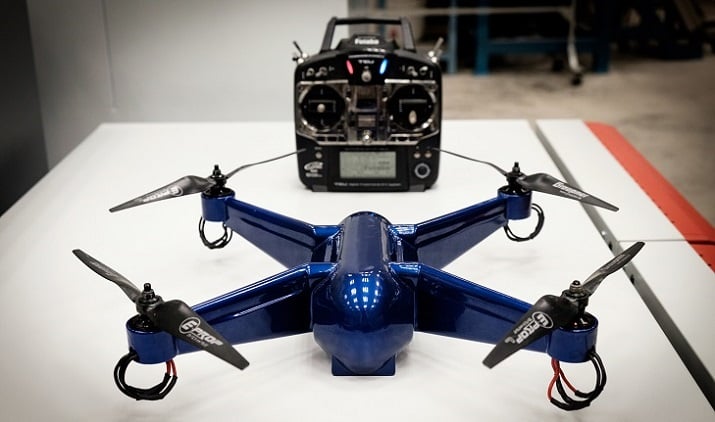 The drone is capable of carrying more than 132 pounds and is rugged because of the use of aerospace-grade materials. Source: Nanyang Technological University "One of the toughest challenges was to find electronic components that could theoretically survive the high-temperature printing process—we had to add some heat-proofing modifications to the components to ensure they could last," says Phillip Keane, an NTU Ph.D. candidate from the School of Mechanical and Aerospace Engineering. "This involved adding new components to the printed circuit boards and also designing custom housings."
The drone took under 14 hours to be completed, and there were only three pauses in the process for the electronics to be placed within the chassis. Only the motors and propellers were mounted after the chassis was completed.
Using Stratasys' ULTEM 9085 thermoplastic material allows the drone to be rugged and capable of supporting more than 132 pounds of weight suspended from its structure. The researchers are also working on a future version of the drone that will have better durability, a lighter weight and improved flight dynamics.