Stratasys Ltd. employees launched a lightning attack in Minnesota's Twin Cities, aimed at introducing a large group of high school students to 3D printing. The Stratasys team used the appeal of 3D printing to introduce students to STEM fields of science, technology, engineering, and mathematics.
In the past, a Stratasys employee would visit a school for her child's career day. The Twin Cities' program marks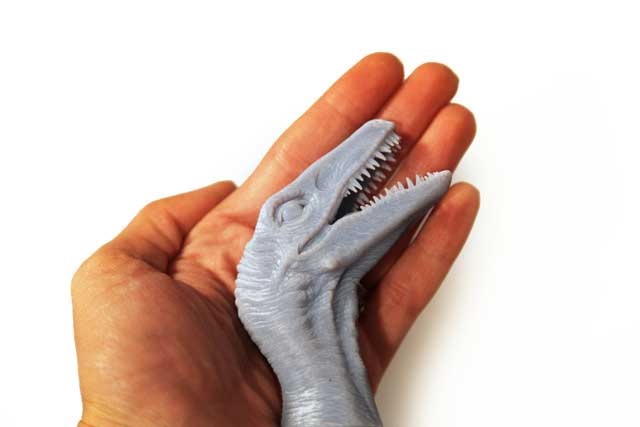 3D printed velociraptor. Credit: Stratasys Ltd. the company's first large-scale effort to present information about STEM and to introduce 3D printing to a broad student audience.
The program, presented by 80 Stratasys employees, garnered 3,500 student attendees from 31 schools. Each volunteer presented videos, passed around 3D-printed objects, and talked about careers in manufacturing and engineering.
Stratasys partnered with Delta Sigma Theta sorority's Empowering Males to Build Opportunities for Developing Independence (EMBODI) Scholars program to bring 93 students to the Stratasys headquarters. The teens got hands-on experience using company hardware and design drawings to print 3D salt shakers, among other artifacts like velociraptors and gas pedals.
Students responded to the experience with enthusiasm and surprise that 3D printing applications cover a wide range of disciplines. A Stratasys recruiter, pleased that the students enjoyed the program, indicated that the company will present the program again in the future.