The world has seen numerous wonders built using 3-D printing including an entire building, airplane, motorcycle and fresh food. Now, 3-D printing is taking it a step further, with the "Seven Wonders of the World."
Stratasys Ltd., a 3-D printing company, is teaming with Atlanta's Millennium Gate Museum in order to recreate one of the rarest pieces of art from ancient Greece in the Statue of Zeus at Olympia. Built by sculptor Phidias in 432 B.C., the Statue of Zeus at Olympia was created to honor the Greek God but was destroyed in 5th Century A.D.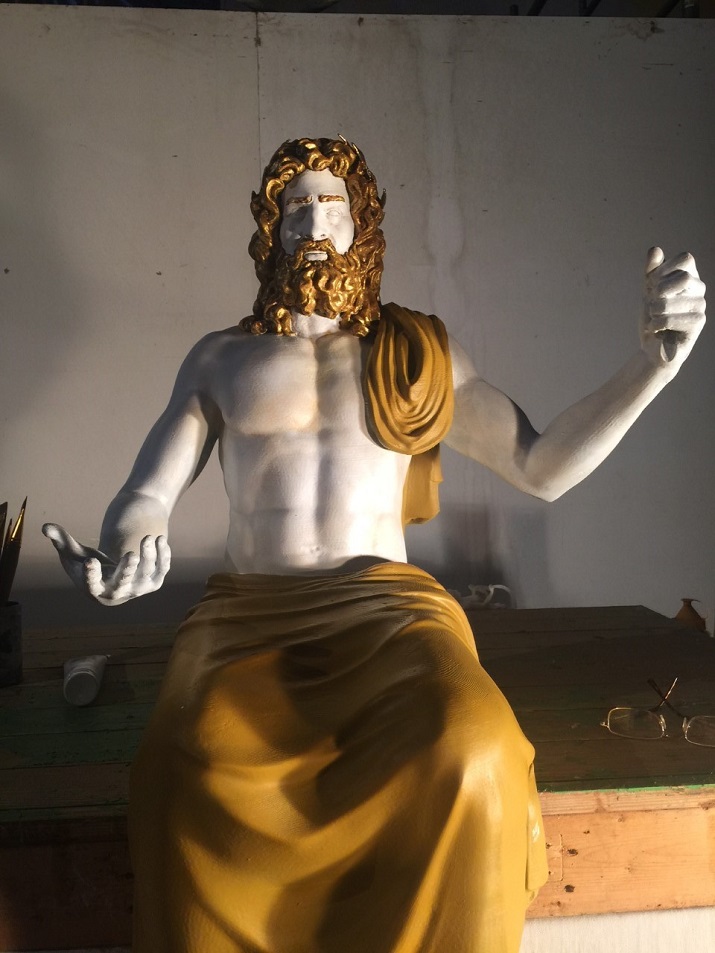 The 6 foot tall replica was made with Stratasys' 900mc Production 3-D printer using thermoplastics. Source: Stratasys Using thermoplastics to create strong, dimensionally stable and accurate 3-D printed parts, Stratasys utilized its Fused Deposition Modeling (FDM) 3-D printing technology in order to recreate the piece of art for the modern times. The Statue of Zeus at Olympia was recreated with the company's Fortus 900mc Production 3-D printer in order to generate realistic parts with complex designs and a smooth finish. Stratasys says the production-grade thermoplastics will guarantee the statue will remain stable even in harsh environments.
How They Did It
Based on images of the art, designers were able to translate the rendering image into a CAD file using 3-D modeling software. Actual production was then enabled via an additive approach, laying successive material layers until the 3-D print was complete. The final result is a replica that stands at 6 feet tall and will be unveiled at the 20th anniversary of the Atlanta Centennial Olympic Games on Aug. 20.
"Throughout history, there are always instances where the most precious works of art get destroyed or broken. In the past, this disappearance meant items were lost forever. That's why we're so heavily invested in the artistic value of 3D printing," says Jeremy Kobus, director of the Gate Museum. "Committed to working at the intersection of technology and art, we see the tremendous potential of 3D printing for educational applications."
To contact the author of this article, email engineering360editors@ihs.com