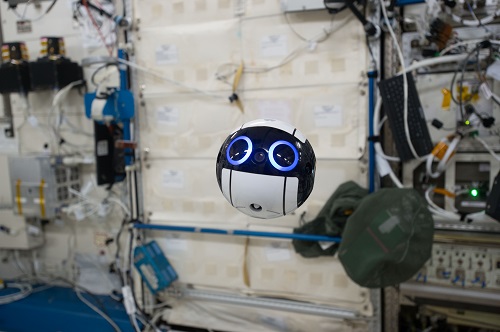 The JEM Internal Ball Camera can take still and moving images in space autonomously. Image credit: JAXAThe Japan Aerospace Exploration Agency (JAXA) has released the first images of a camera drone that can record video while moving in space using a remote control from Earth.
The JEM Internal Ball Camera, known as Int-Ball, was delivered to the International Space Station last month and is undergoing verification on the station. The drone camera can move autonomously in space and record still and moving images supervised by the JAXA Tsukuba Space Center.
The drone's images and videos can be checked in real time by flight controllers and researchers on the ground and then fed back to the onboard crew. The camera drone uses existing drone technology and its exterior and inner structures were manufactured using 3-D printing.
JAXA says the goal of the Int-Ball is to reduce the time the onboard crew spends taking photographs to zero. Photography takes up about 10 percent of their working hours at present.
Future goals will be to improve the Int-Ball's performance, enhance its functions and promote the automation and autonomy of extra- and intra-vehicular experiments. At the same time, JAXA will work to acquire the robotics technology to explore future missions.