OmniVision Technologies, Inc., has announced a new family of 20-megapixel, stacked-die image sensors. According to the company, the OV20880 and OV20880-4C will bring a host of advanced features to rear- and front-facing camera applications.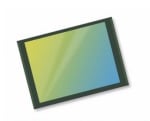 OmniVision Technologies aims to bring advanced imaging capabilities to high-end smartphones with its OV20880 and OV20880-4C image sensors. Image source: OmniVision Technologies, Inc. The newly announced image sensors utilize OmniVision's "PureCel Plus-S"-branded second-generation 1.0-micron pixel, boasting enhancements to deep trench isolation (DTI) and buried color filter array (BCFA) process technologies. According to OmniVision, the sensors' compact form factor, power efficiency and high image quality make them an excellent fit for slim, high-end smartphones.
The OV20880, designed specifically for main-camera applications, offers advanced capabilities such as zig-zag high dynamic range (zHDR) and phase-detection autofocus (PDAF). The zHDR uses a long and short exposure in a single frame to extend the dynamic range capabilities of the sensors. Long and short exposure lines are diagonally interlaced across the entire pixel array in a zig-zag pattern. This enables live preview and video recording in HDR mode, and single-shot full-resolution HDR images in capture mode without shutter lag.
The OV20880 is also optimized for mobile dual-camera zoom solutions, offering several dual-camera-friendly features such as context switching and electronic image stabilization (EIS). The on-chip EIS can synchronize with an on-board electronic gyroscope without latency, enabling advanced capabilities such as image deblur.
The color filter pattern of the OV20880-4C offers a variety of output modes depending on the use case. The on-chip, in-pixel binning feature allows up to four times more light photons than a regular 1.0-micron pixel. OmniVision says this in-pixel binning capability creates high-sensitivity and high-quality images even in low-light conditions, and allows end users to take clear "super selfies" in a wide range of lighting environments. The OV20880-4C also pairs with OmniVision's software solution for resolution recovery that enables high-resolution, 20-megapixel selfies when combined with the sensor's four-cell mode.
Both the OV20880 and OV20880-4C feature a C-PHY interface that enables power savings and pin-count reduction. Packaged in industry-standard, slim form factor modules, both image sensors are currently available for sampling. They are expected to enter volume production in the first quarter of 2017.