OmniVision Technologies, Inc., announced a new 16-megapixel image sensor featuring a relatively large 1.3-micron pixel and a faster readout architecture which together offer improved low-light performance and full-resolution recording at 45 frames per second (FPS). The OV16860 also supports high dynamic range (HDR), phase detection autofocus (PDAF) and slow-motion video recording. OmniVision considers it an ideal imaging solution for high-end smart phones and action cameras.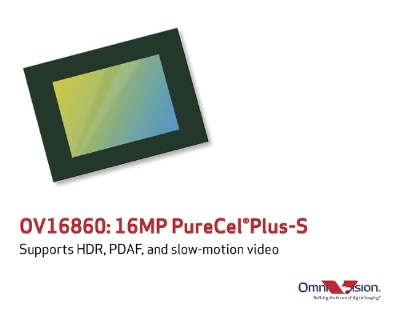 OmniVision Technologies OV16860 16-megapixel image sensor. (Source: OmniVision Technologies, Inc.)The OV16860 is the first image sensor built on OmniVision's new PureCel Plus-S architecture, which features a larger pixel size and offers a number of performance improvements over traditional 1.12-micron 16-megapixel sensors. OmniVision reports this new technology delivers a 33 percent improvement in full-well capacity (the maximum amount of charge a pixel can hold before reaching saturation), a 40 percent boost in low-light performance, and reduced crosstalk between adjacent pixels. Additionally, the OV16860 enables a nominal operating digital voltage (DVDD) spec of 1.0V, and thus requires 40 percent less power than the previous-generation OV16825.
The 1/2.4-inch OV16860 supports high-quality slow motion video capture with full field of view (FOV). In addition to capturing 16-megapixel images and video at 45 FPS, it acquires ultra-high definition 4K2K video at 60 FPS, and 1080p high definition (HD) video at 120 FPS via high speed D-PHY and C-PHY interfaces.
Currently available for sampling, the OV16860 is supplied in a 10.5 mm x 10.5 mm module with a z-height of 5.8 mm. It is expected to enter volume production before the end of the year.