OmniVision Technologies Inc. has announced two high performance 5-megapixel image sensors, the OV5675 and OV5695. Designed to be cost-competitive camera solutions for front-facing camera applications in smart phones and tablets, the two sensors feature improved designs that offer superior image and video quality in more compact and power-efficient packages.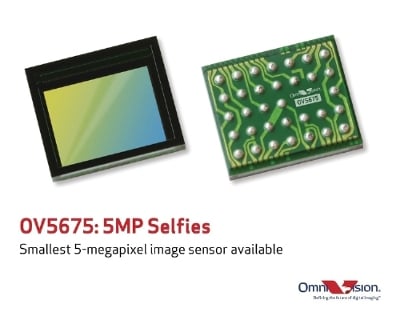 OmniVision Technologies OV5675 and OV5695. Image source: OmniVision Technologies, Inc.
Built on the company's 1.12-micron PureCel technology, the 1/5-inch OV5675 is, in OmniVision's estimation, the smallest 5-megapixel image sensor currently available on the market today. The sensor can capture full-resolution video in a native 4:3 aspect ratio at 30 frames per second (FPS), or 720p and 1080p video at 60 FPS. Compared to previous generation image sensors, the OV5675 offers improved quantum efficiency, crosstalk and power efficiency in a compact 5.5 mm x 5.5 mm package with a z-height of less than 4 mm.
The 1/4-inch OV5695 utilizes OmniVision's 1.4-micron OmniBSI+ pixel architecture to capture full-resolution video in a native 4:3 aspect ratio at 30 FPS, 1080p video at 30 FPS, or 720p video at 60 FPS with support for interlaced high dynamic range (iHDR). The sensor's low-light sensitivity enhances image and video quality when recording in low-light conditions, and reduces user dependence on the device's front-facing flash. Additionally, the OV5695 supports low-power mode, which further reduces power consumption and improves battery life. It fits into an 8.5 mm x 8.5 mm module with a z-height of approximately 4.2 mm.
The OV5675 and OV5695 are available now.