Analog IC house Linear Technology will demonstrate what it claims is the first wireless automotive battery management system (BMS) concept car at the 2016 Electronica trade show taking place this week in Munich, Germany.
The concept car takes a BMW i3 and replaces the traditional wired connections between the battery packs and the battery management system with Linear's battery stack monitors and its SmartMesh wireless mesh networking products. Linear says a fully wireless BMS could potentially improve the reliability, lower the cost, lower the weight and reduce complex wiring in traditional large, multi-cell battery stacks for electric and hybrid electric vehicles.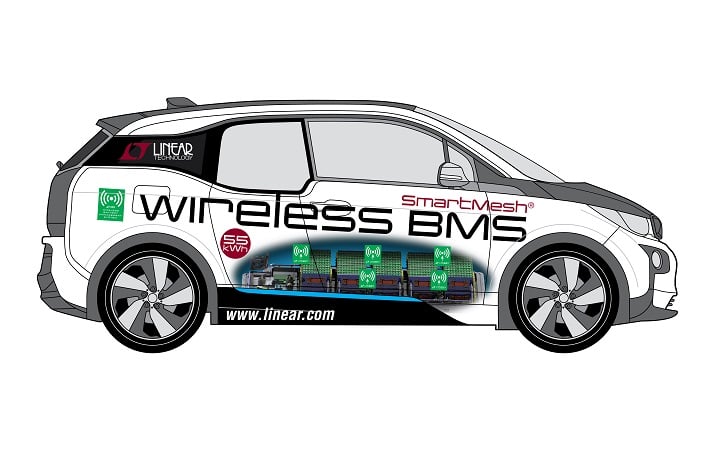 The BMW i3 concept car integrated with Linear's wireless battery management system. Source: Linear The Linear BMS is a complete battery-measuring device for hybrid and electric vehicles that can measure up to 12 series-connected battery cell voltages with better than 0.04% accuracy while improving the reliability issues that are associated with automotive wiring hardness and connectors, the company says.
The benefits to a wireless mesh network is that it enables additional BMS capability by creating multiple points of redundant connectivity. Also wireless connectivity allows for a more flexible placement of battery modules and the potential to install sensors in locations that were unavailable due to the wiring harness. Linear says wireless sensors inside the Smartmesh network—such as current and temperature monitors—potentially could synchronize these measurements with cell voltages.