ICs and semiconductors drive the consumer technology industry. If you want to see what will be designed into next year's products you not only have to take in the large, lavish displays in the Las Vegas Convention Center that hosts CES, but you also must make a pilgrimage to the hospitality suites in the numerous hotels on the strip where the semi suppliers are wining, dining and showing their latest parts to engineers. So, with a pen in my right hand and – yes, thank you for the cocktail—a libation in my left here is what's new and notable in components and circuits being shown in and around CES.
Proclaiming that Moore's Law is not dead, Intel CEO Brian Krzanich announced that the company will release a 10-nm chip later this year and one that would be less expensive than its predecessor. Krzanich said that he has heard about the death of Moore's Law "more times than anything else" in his 34-year career but "I'm here today to show you and tell you that Moore's Law is alive and well and flourishing".
Intel's Krznich holding an unpcoming laptop with a 10-nm Intel processor
In 2017 Intel also plans to extend its reach into the autonomous car market by rolling out software development kits (SDK) for an audience of OEMs and tier ones. The new SDK, called the "Intel Go In-vehicle development platform" for automated driving, is designed to enable carmakers to jump start development of autonomous vehicles, as a proof of concept. The scalable SDK focuses on providing processing power to cars with offerings ranging from the 2-core Intel Atom to 28-core Intel Xeon processors combined with an Arria 10 FPGA.
Most IoT devices don't speak the same language even if they use the same wireless technology. The result is an Internet of Things (IoT) that is often a patchwork of translations, adding complexity for developers and limiting users to single-vendor systems. The Zigbee Alliance unveiled what it hopes will be a Universal Language for the IoT at CES 2017. At CES the Zigbee Alliance proposed dotdot as that universal language for the IoT. Members of the Alliance and the Thread Group showcased the first demonstrations of dotdot devices running over Thread's IP-based networks.
They point out that dotdot, which is the application layer at the heart of Zigbee technology, can be applied across other IoT networks. The Zigbee Alliance said it will be announcing more details about dotdot, including specifications, certification, and logo program, as 2017 progresses.
Linear Technology demonstrated the industry's first wireless automotive battery management system (BMS) concept car at CES. The car, developed with Linear's design partner LION Smart, combines Linear's battery stack monitors with its SmartMesh wireless mesh networking products in a BMW i3, replacing the traditional wired connections between the battery packs and the battery management system. This addresses the persistent reliability issues associated with automotive wiring harnesses and connections in electric and hybrid/electric vehicles, and simplifies the BMS design and manufacture.
The LTC6811 battery stack monitor is a complete battery measuring device for hybrid/electric vehicles that can measure up to 12 series connected battery cell voltages with a claimed accuracy of better than 0.04%.
The MAX2175 RF to Bits tuner solution from Maxim Integrated Products is said to significantly simplify designing the head unit of a vehicle and reduces the number of cables needed. The part eliminates the need to rework the vehicle's hardware to support worldwide radio standards, allowing updates by simply changing the vehicle's software.
An analog/digital hybrid-radio receiver with RF to Bits front-end the MAX2175 IC is designed for software-defined radio solutions in automotive reception environments. The tuner uses direct-conversion for digital audio broadcast (DAB) and digital multimedia broadcast (DMB) applications, covering both VHF Band-III and L-Band. Reception of FM, DRM+, FM-HD, and Weather-Band is supported using a low-IF and digital conversion to baseband. AM (long, medium and short wave) and DRM reception is supported using direct sampling and digital conversion to baseband.
The device provides a buffered differential output of the reference frequency to support multi-tuner systems. The design integrates all key blocks, enabling low-power, tuner-on-board designs with advanced baseband solutions. The tuner includes digital filtering to minimize the MIPS required in the baseband processor to demodulate the desired channel. The resulting I-channel and Q-channel data words are transferred to the baseband through an industry standard I2S digital interface. The MAX2175 IC is available in a 48-pin TQFN package (7mm x 7mm) with an exposed pad. Electrical performance is guaranteed over the extended -40°C to +85°C temperature range.
Green Hills Software announced an expanded collaboration with Renesas Electronics by delivering integrated automotive solutions and global customer adoption of the INTEGRITY real-time operating system (RTOS) and INTEGRITY Multivisor virtualization for the latest Renesas R-Car automotive computing system-on-chips (SoCs). Both companies demonstrated solutions based on Renesas' R-Car H3 and R-Car D1 SoCs and new support for R-Car M3, showcasing solutions for advanced driver assist systems (ADAS), reconfigurable digital instrument clusters, eCockpit domain consolidation and connected car V2X.
Software developers can quick-start their development time thanks to Green Hills support of both the R-Car starter kits and Salvator-X development boards for the R-Car H3 and R-Car M3 SoCs. INTEGRITY and INTEGRITY Multivisor are integrated as well as Green Hills Software's development tools featuring the C/C++ compilers, MULTI integrated development environment, TimeMachine backward execution trace debugger, and MISRA C Adherence Checker.
At CES, AMD announced Radeon FreeSync 2 technology for smooth gameplay and pixel integrity with planned availability to consumers in 1H 2017.According to AMD, qualifying FreeSync 2 monitors will harness low-latency, high-brightness pixels, excellent black levels, and a wide color gamut to display High Dynamic Range (HDR) content. In addition, all FreeSync 2 monitors will have support for Low Framerate Compensation (LFC). With Radeon FreeSync 2 technology, gamers can enjoy a complete plug-and-play HDR gaming experience, avoiding the need to tweak settings in software or on the monitor.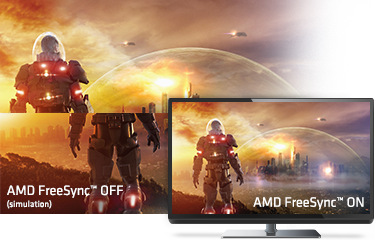 AMD FreeSync offers gamers a low-latency alternative
Current HDR transport formats were designed primarily for movie content displayed on TVs with tone mapping handled by the displays, the company noted, which often leads to higher-than-acceptable latency for PC gaming. AMD's new API for FreeSync 2 offers a lower-latency alternative that shifts the workload to the pipeline of a Radeon GPU, allowing the game to tone map directly to the display's target luminance, contrast, and color space. Radeon FreeSync 2 technology offers over 2x the brightness and color volume over sRGB.2, according to AMD.
ON Semiconductor showcased its portfolio of solutions for the effective implementation of USB Type-C applications at CES. USB Type-C is the rapidly emerging default industry-standard for wired, smart and rapid charging and high-speed data transmission to support applications such as high definition video and augmented and virtual reality. The default USB 3.1 protocol is capable of achieving data rates of up to 10 Gbps, theoretically twice as fast as USB 3.0 – crucial to ensuring the viability of today's always connected, high use portable devices. The company's portfolio of USB Super Speed solutions includes a full data multiplexer -- the FUSB340TMX -- as well as smaller footprint USB single and dual-channel re-drivers, NB7VPQ701M and NB7VPQ702M, supporting both USB 3.1 Gen 1 (5 Gbps) and USB 3.1 Gen 2 (10 Gbps) applications. ON reports that they offer superior random jitter performance and can extend signal distances up to 36 in of FR4 or 5m of cable at 5 Gbps. Increased system performance can be achieved by utilizing ON Semiconductor's re-drivers with integrated ESD to reduce the number of physical board components and their associated losses. Parts are also available that integrate a common-mode-filter for EMI sensitive applications such as mobile phones where it is important to suppress system noise.
Nordic Semiconductor showed off Bluetooth low energy (including Bluetooth 5) and IEEE 802.15.4-enabled technologies at CES 2017.Among the exhibits was a demonstration of how Nordic's nRF52 Series Systems-on-Chip (SoCs) are increasingly being used at the heart of wearable contactless payment technology. The company showed a Bluetooth low energy wearable using the nRF52832 SoC's Near Field Communication (NFC) interface for payment. Using NFC capability for this purpose, the company said, simplifies the product's design, lowers cost, and reduces space requirements. In addition, Nordic demo'ed the capabilities of the nRF52840 SoC and S140 SoftDevice (Nordic's latest RF protocol 'stack') - including the range and throughput enhancements of Bluetooth 5.
LoRa Alliance members myDevices, the Internet of Things solutions company, Senet, a fast growing North American provider of public, low-power, wide-area networks (LPWANs) for long-range Internet of Things (IoT) applications built on the LoRaWANä protocol and STMicroelectronics collaborated to unveil the first real-time, multi-target location tracking system using the LoRaWAN low-power, wide-area network (LPWAN) protocol along the Las Vegas Strip.
Illustrating the ability to rapidly deploy commercial LPWAN and the ease in which fully functional real-world IoT solutions can be brought to market, this live, real-time demonstration was part of STMicroelectronics' delivery of a personalized experience for their customers and partners attending CES. Key components of the demonstration include LoRaWAN-supported radio technology and automotive-navigation chips from ST, custom application dashboards from myDevices, and public LPWAN connectivity and services delivered by Senet. CES attendees could view the demonstrations at the myDevices IoT Creation Suite at Mandalay Bay and by invitation at ST's private demo suites.
During his keynote address Nvidia co-founder and CEO Jen-Hsun Huang detailed his company's efforts in the race to build self-driving cars. Huang said his company's expertise in making graphics processors for gaming PCs gives it the proper background to produce high-performance chips necessary to run autonomous vehicles.
As part of his talk Huang introduced the company's AI car supercomputer, the Xavier which is an auto-grade, 512-core Volta GPU and AI platform that's capable of learning how to drive by watching a human driver. Nvidia installed the system in an autonomous Lincoln called BB8 and is partnering with auto parts firm ZF to turn its chip designs into a production computer for the auto industry. Nvidia also has teamed with auto tech supplier Bosch, which has agreed to adopt the Nvidia Drive computer.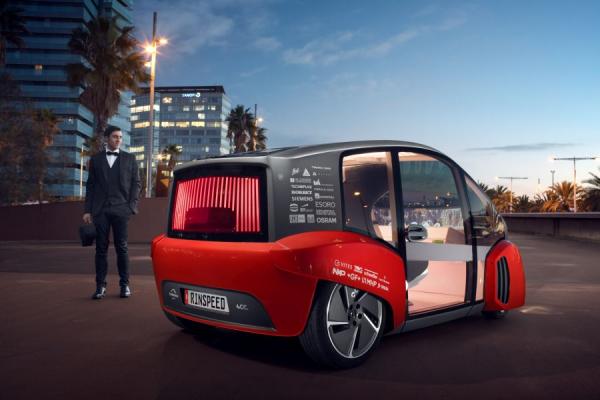 The Rinspeed Oasis
At CES 2017 NXP announced it will advance security for the IoT with Microsoft. The solu-tions combined hardware and software security with other capabilities such as voice control and self-learning algorithms, for use in smart homes, connected cars, and smart connected devices.
Microsoft, NXP, IAV and auto mobility partners, Cubic Telecom, Esri, and Swiss Re, showcased their collective vision of safe and secure end-to-end mobility through a highly automated driving demonstration. The new Rinspeed "Oasis", a self-driving electric vehicle on display in Las Vegas, used a number of NXP technologies for enabling securely connected, self-driving cars, including radar "cocooning", V2X communications, automotive NFC, NXP BlueBox Sensor Fusion, long-range RFID and more. Advanced sensing technology allowed the system to capture a 360-degree view of the vehicle's surroundings with precision.
NXP also announced the SAF4000 – the world's first fully integrated software defined radio solution capable of covering all global broadcast audio standards, including AM/FM, DAB+, DRM(+) and HD. The new IC simplifies the development of high-performance infotainment platforms as it combines six ICs, thus replacing today's multi-chip solutions with a single compact RFCMOS device.