The industry's first battery management system (BMS) concept car will be demonstrated by Analog Devices, Inc. (ADI), at Hannover Messe from April 24 to 28.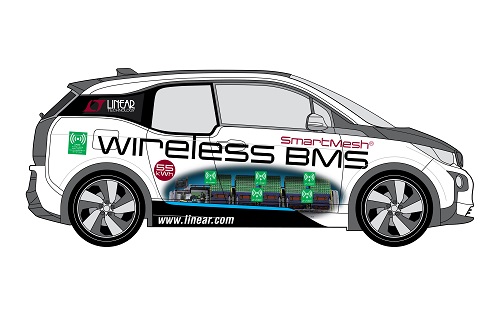 BMW i3 Wireless BMS Concept Car. Source: Linear Technology
This wireless BMS concept car features highly accurate battery stack monitors and SmartMesh® wireless mesh networking products developed by Linear Technology Corporation, recently acquired by ADI. The wireless system, developed with Linear's design partner LION Smart, replaces the traditional wired connections between the battery packs and the battery management system in a BMWi3.
This BMS technology addresses the persistent reliability issues associated with automotive wiring harnesses and connections in electric and hybrid/electric vehicles; the BMS design and manufacture are simplified in this concept car.
Linear's road-proven high voltage battery stack monitors enable battery management systems that maximize battery pack performance and longevity. The LTC6811 battery stack monitor is a complete battery measuring device for hybrid/electric vehicles that can measure up to 12 series-connected battery cell voltages with better than 0.04 percent accuracy. Combining the LTC6811 with Linear's SmartMesh wireless mesh networking system addresses wiring harness and connector reliability concerns.
Field-proven in industrial Internet of Things applications, SmartMesh embedded wireless networks deliver greater than 99.999 percent-reliable connectivity in harsh environments by employing path and frequency diversity. In addition to improving reliability by creating multiple points of redundant connectivity, the wireless mesh network enables flexible placement of battery modules and improves battery state of charge and state of health calculations. Additional data can be gathered from sensors installed in locations previously unsuitable for a wiring harness. SmartMesh also provides time-correlated measurements from each node, allowing for more precise data collection.
A reference design will be available in the first half of 2017.