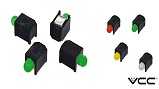 6300T series right angle SMD indicator. Source: VCC
Global illumination solutions provider VCC has added a 3 mm right angle SMD circuit board indicator version to its product portfolio. The 6300T series right angle SMD indicator is designed for low to high volume manufacturing, as it is compatible with automated assembly equipment to reduce assembly labor time and cost.

The one-position 6300T series features a diffused round dome lens with a 0.112 in. (2.85 mm) bulb that delivers a 50-degree viewing angle. Offered in a MSL3 moisture sensitive package, the 6300T series is well suited for a broad range of applications including automation & control, food service, industrial, infrastructure, IoT, medical, switchers, storage servers and telecommunications. When installed, the 6300T series can provide illuminated indication or backlight panel indicators.

The 6300T series SMD circuit board indicator utilizes a black UL 94 V-0 housing that enhances contrast ratio and enables unlimited design opportunities. The black housing and unique design also reduces reflection, a major cause of light pollution in color-mixing applications. The 6300T series LED indicator is available in a wide range of colors, including red, green, yellow, as well as bi-color red/green and yellow/green for use in applications where color-mixing is desired.

The 6300T Series right angle SMD circuit board indicators are delivered in 16-mm tape on 13 in diameter reels. They are available in-stock or up to a six week lead time.