Distribution
New Vishay space-saving, ultra-bright LEDs produce high luminous flux and intensity
30 April 2019
Sponsored content
New Yorker Electronics is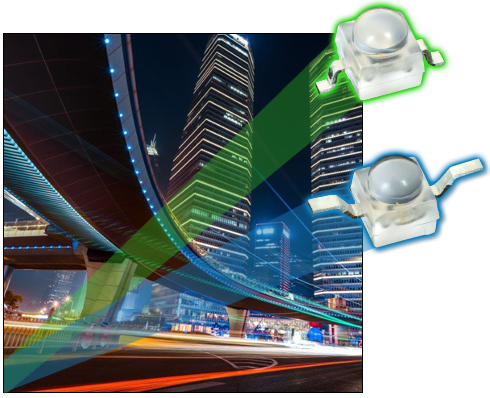 Figure 1: New Yorker Electronics is distributing the Vishay Optoelectronics' VLD 1232 series of space-saving ultra-bright LEDs. Source: New Yorker Electronics now distributing the new Vishay Optoelectronics' VLD 1232 series of space-saving blue and true green, ultra-bright LEDs. These semiconductors are housed in compact packages with dome lenses and feature the latest in gallium-nitride (GaN)/sapphire chip technology with a high luminous flux.
This series of Vishay LEDs also exhibit a narrow emission angle of ±9° for high luminous intensity, typically to 16,000 mcd. The dome lens surface-mount device LED series has been designed in a small, untinted and clear-molded package, with lens, for surface mounting in the gullwing or reverse gullwing version.
They have an immediate fit in markets for traffic signals and signs, interior and exterior lighting, smoke detectors, bio sensing, audio and video equipment backlighting indicators, LCD switches, illuminated advertising and more.
Features and benefits
Offered in blue and true green
Untinted surface-mount packages with dome lenses and small 2.3 mm x 2.3 mm x 2.8 mm plastic cases
Extremely high brightness with luminous intensity; 16,000 mcd typical
Emission angle of ± 9°
Available in gullwing and reverse gullwing versions
Withstand ESD voltages up to 2 kV in accordance with JESD22-A114-B
Luminous- and color-categorized per packing unit
RoHS-compliant, halogen-free and Vishay Green
Compatible with reflow soldering processes per J-STD-020
Preconditioned according to JEDEC Level 2a
Applications
Traffic signals and signs
Interior and exterior lighting
Smoke detectors
Bio sensing
Indicator and backlighting purposes for audio, video, LCD switches, symbols and illuminated advertising
New Yorker Electronics is a franchise distributor for Vishay Optoelectronics and supplies the full line of Vishay Optoelectronics including optocouplers, optical sensors, seven-segment displays, infrared receivers, solid-state relays, LCD displays, visible LEDs, infrared emitters, plasma displays, photo detectors, IrDA transceivers and infrared touch panels.
New Yorker Electronics is a certified authorized distributor of electronic components, well known for its full product lines, large inventories and competitive pricing since 1948. New Yorker Electronics is an AS9120B and ISO 9001:2015 certified source of capacitors, resistors, semi-conductors, connectors, filters, inductors and more, and operates entirely at heightened military and aerospace performance levels. It also functions in strict accordance with AS5553 and AS6496 standards — verifying that it has implemented industry standards into everyday practices to thwart the proliferation of counterfeit parts. It is a member of ECIA (Electronics Component Industry Association) and of ERAI (Electronic Resellers Association International).
Find Free Electronics Datasheets