Visual Communications Company (VCC), a developer of indication and specialty illumination solutions,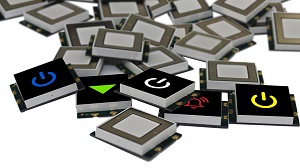 Source: Visual Communications Companyrecently launched the CSM Series surface mount capacitive touch LED sensor, which delivers the smallest footprint in the industry.
The CSM Series Capacitive Touch Sensor Displays are unique because they measure only 15.0 by 15.0 by 3.2 millimeters and can be surface-mounted or even reverse-mounted to save additional space on the device — a true asset in smaller handheld devices and equipment where size is a design constraint.
These compact high-output LED sensor displays can be used in a range of applications, including: medical devices, home automation and mobile communication devices, as well as portable instruments. Reliable operation is provided whether the user has a dry or damp finger, or is wearing touchscreen-compatible gloves.
Available in green, yellow, red, blue and white, the CSM Series enables a fast and intuitive user interface — one that speeds up reaction times and enhances safety by using icons instead of text. Standard icons include: on, off, alarm and arrow, and custom icons can also be created to accommodate any design.
In addition, capacitive touch sensor displays like the CSM Series provide streamlined manufacturing and enhanced product life cycle over a mechanical on/off switch because there are no mechanical components to wear down or break.
The CSM Series will be available through VCC's distribution channels in February 2018.
CSM Quick Tips:
•SMD touch sensor LED Display
•Integrated touch sensing and display technology
•Robust design due to no mechanical moving parts
•Simplifies devices design and manufacturing
•Mounting type: surface mount or reverse mounting
•Color: super red, white, pure green, blue or yellow
•Touch sensor: integrated circuit (IC)
•Available in one standard size: 15 by 15 by 3.2 mm
•Uniform illumination and high optical clarity due to LED technology
•Simplifies device design and manufacturability
•Optional overlay (icons): on/off, arrow, alarm
•Custom overlay icon can be manufactured upon request — contact VCC
•Compliant with RoHS and REACH requirements