iDevices has launched a Smart Home kit that is both Apple HomeKit- and Amazon Alexa-enabled without the need for a central hub, gateway or bridge.
The home kit includes three iDevices sockets for connected light bulb adapters, five iDevices switches for indoor connected plugs and two iDevices outdoor switchers for rain-tight connected plugs. The kit includes what iDevices calls a Concierge Service that allows homeowners to connect with iDevices' staff in order to set up the Smart Home easier.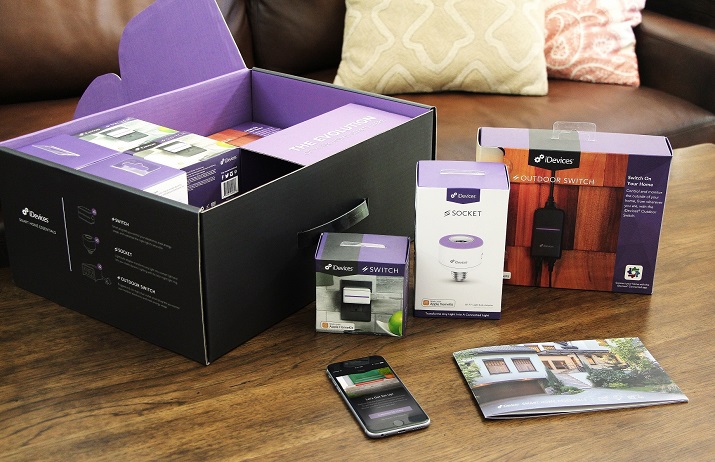 The kit includes three sockets for light bulbs, five indoor switches and two outdoor switches to enable a complete Smart Home. Source: iDevices The goal is for home automation to be as seamless and invisible as possible, iDevices says. Setting up home automation should not be a chore but an easy experience, and the kit serves as a foundation that can be expanded upon with new products and customizations moving forward, the company says. While the kit works with Apple HomeKit and Amazon Alexa, the company plans to announce Android compatibility later this year.
Inside the Box
The three iDevices sockets allow homeowners to use any standard light bulb and turn it into a smart bulb that can be controlled using the iDevices Connected application. These smart bulbs will have dimming capability and can be adjusted for mood lighting and brightness.
The five iDevices switches allow homeowners to control, monitor and program electronic devices such as lamps, fans, crockpots, space heaters, humidifiers and more using voice commands or the iDevices application.
The two iDevices outdoor switches allow users to control, monitor and schedule electronics on the exterior of homes by using voice commands or the application for holiday lights, spotlights and outdoor water fountains.
To contact the author of this article, email engineering360editors@ihs.com