Today Micro-Measurements, a Vishay Precision Group, Inc. brand, announced the release of three CEA-Series strain gages designed to perform standard compression tests on polymer matrix composite materials. The new sensor patterns feature a unique configuration that the company claims makes them ideal for any strain measurement requiring close proximity to one-sided features, such as weld joints, structural discontinuities or stress risers such as holes and cracks.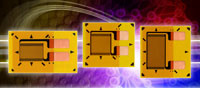 Micro-Measurements has optimized the conductor pattern of its latest CEA-Series strain gages to facilitate testing the compression strength of composite materials in compliance with ASTM Standard Test Method D6641. Image source: Vishay Precision Group, Inc. "Structural designers have told us that finding the compression strength of composite materials is necessary and is the subject of ASTM Standard Test Method D6641," said Bob Watson, director of engineering for Micro-Measurements. "The loading device recommended for use in this standard provides a 12.7 mm (0.5 in.) test section length, and a test section width range of 12.7–30 mm (0.5–1.2 in.), making our new UB pattern geometry ideal for this testing."
The 062UB, 125UB and 250UB patterns are designed with both solder tabs placed on one side of the linear sensing grid, which allows these foil strain sensors to be properly oriented on the composite specimen, keeping the sensing grid centered in the test zone.
Available in 350 Ω to minimize self-heating, the UB patterns are made in the popular CEA-Series construction, which features a thin, flexible, cast polyimide carrier backing and encapsulation, and rugged, copper-coated solder tabs that permit quick and simple soldering. The UB patterns are also available with optional pre-attached lead wires, eliminating the chance of heat damage to the test specimen during soldering.
Further information about Micro-Measurements CEA-Series 062UB, 125UB and 250UB patterns is available at www.micro-measurements.com. Follow Micro-Measurements at www.strainblog.com or twitter.com/strain_gage.