Delta robots have been widely used in industrial applications for pick-and-place applications because of their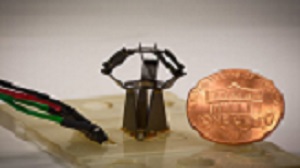 Completely unfolded, the 15 mm x 15 mm x 20 mm milliDelta roughly compares to a cent piece. Source: Wyss Institute at Harvard Universityhigh precision and speed. These qualities are also desirable at the millimeter scale for tasks such as vibration cancellation in microsurgery and microassembly or micromanipulation. Researchers from Harvard's Wyss Institute for Biologically Inspired Engineering and John A. Paulson School of Engineering and Applied Sciences (SEAS) have achieved such robotic miniaturization by integrating their microfabrication technique with high-performance composite materials that can incorporate flexural joints and bending actuators.
The result is the 15 mm x 15 mm x 20 mm milliDelta robot, weighing just 430 mg and offering a payload capacity of 1.3 g. It can move around its 7 cubic millimeter workspace with a precision of about 5 micrometers, and reach velocities of 0.45 m/s, and accelerations of 215 m/s2, meaning that it can follow repeating patterns at a frequency of up to 75 Hz.
The milliDelta design incorporates a composite laminate structure with embedded flexural joints that approximate the more complicated joints found in large scale Delta robots. Piezoelectric actuators enable it to perform movements at frequencies 15 to 20 times higher than those of other currently available Delta robots.
Learn more about the milliDelta at IEEE Spectrum.