Concrete Casings for Steel Bridge Repair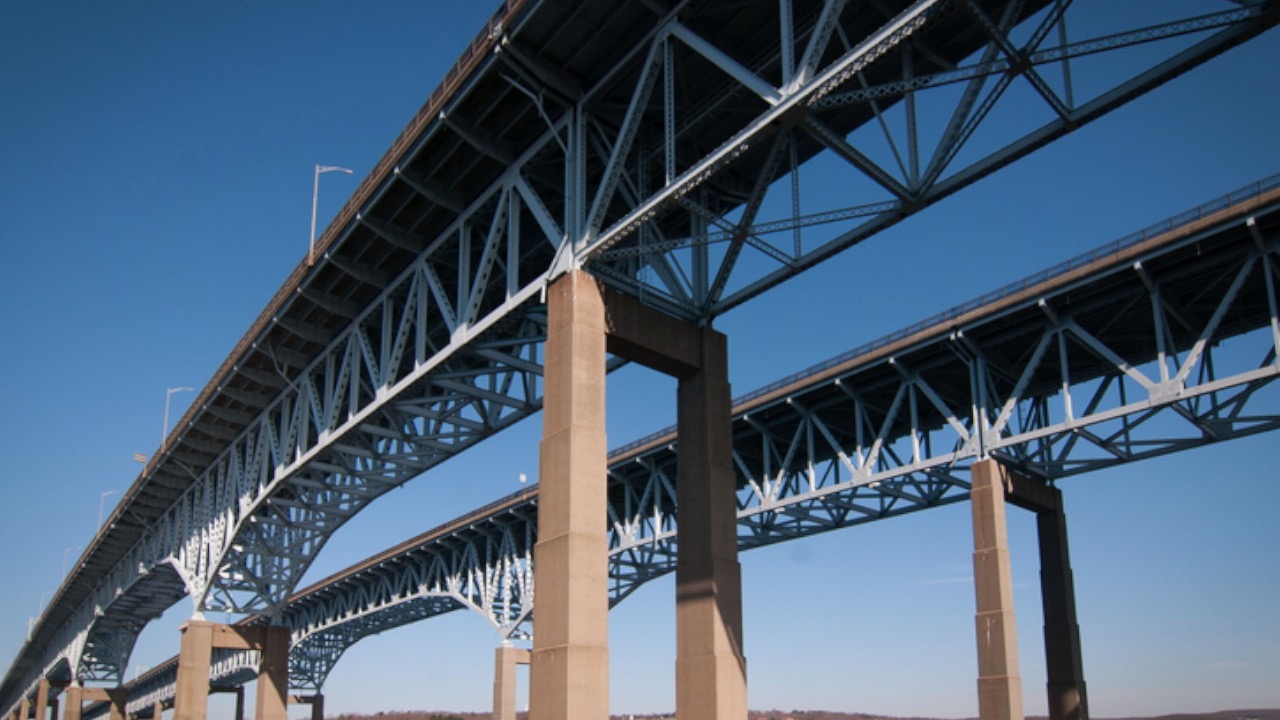 Engineers from the University of Connecticut have devised a method to fix steel bridges that may also reduce the repair expense of these projects. Researchers are proposing using ultra-high performance concrete casings to retrofit corroded ends of steel bridge girders, which is one of the leading deficiencies in steel bridges. UHPC is a low-porosity, cement-based, fiber-reinforced composite with compressive strengths in excess of 22 ksi and excellent durability properties. The repair method involves casting thin UHPC panels on each side of the girder web. Shear studs welded to undamaged portions of the web and flange engage the UHPC panels and provide an alternate load path. The researchers say that this repair method would be superior to the current practice of attaching steel cover plates for several reasons. First, paint removal and surface preparation are not required as high-strength concrete can be cast over painted surfaces. Second, the bridge doesn't need to be jacked up before repairs can be carried out on the support structure. And third, UHPC may protect the original steel from further corrosion.
Engine Startup Produces a Big Emissions Puff
Automakers aiming to reduce the emissions that their gasoline-powered vehicles generate should focus on design changes targeting pollutants that are emitted immediately after a cold start, new research suggests. To find out what vehicles on the road are currently emitting, scientists from the University of California, Berkeley; Carnegie Mellon University; the University of California, San Diego; and the Massachusetts Institute of Technology rented 25 gasoline-powered cars, including two hybrids, from residents in the Los Angeles area. The vehicles ranged in age from 2 to 20 years. The researchers found that almost all emissions in properly functioning new vehicles came out immediately after starting the cars when their engines were cold. Once the cars warmed up, they had to be driven 100 to 300 miles to match the levels that came out in the first 30 seconds after the engine was turned on. Even malfunctioning and older cars had to travel 50 to 100 miles to release the same amount of emissions, the researchers found. This concentrated release occurs because the catalytic converter, which breaks down VOCs, hasn't had a chance to warm up. The faster it can heat up, the lower the emissions could be, the researchers say.
Drones Fly Medical Samples
Drones are being used to improve healthcare for rural communities in Madagascar where delivery of care is hampered by poor or non-existent roads. A startup called Vayu along with Stony Brook University in New York have completed a series of long-range, fully autonomous drone flights carrying medical samples. Vayu's drones have vertical take-off and landing capabilities and can carry 2 kilograms more than 60 kilometers. The study team thinks that drones can be an effective way of speeding medical samples from remote locations to test laboratories.
Engineering360 has a feature story on how engineers are putting their skills to work in the search for a cure for cancer. And Electronics360 explains how Uber plans a fleet of all-electric cars in the UK. These articles, along with data sheets, product guides and newsletters, can be found at the Engineering360 and Electronics360 web sites. For the Engineering360 news brief, I'm Rich Northrup.