Ap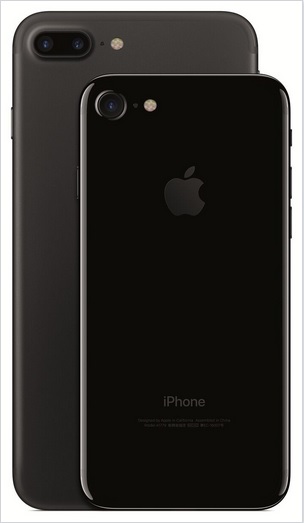 The size difference is shown between the iPhone 7 and the larger iPhone 7 Plus smartphones. Source: Appleple has introduced its latest iPhone 7 and iPhone 7 Plus that include an improved camera, newly designed A10 Fusion chip, improved battery life and water resistance.
Apple says it has changed its camera inside the iPhone 7 to a 12-megapixel version with optical image stabilization, a larger aperture and a six-element lens for brighter, more detailed photos and videos. The only difference between the smartphones is that the iPhone 7 Plus also includes a 12-megapixel telephoto camera that offers up to 10 times digital zoom for photos.
Other camera enhancements include a newly designed Image Signal Processor that processes more than 100 billion operations on a single photo in under 25 milliseconds, a seven-megapixel FaceTime HD camera with wide color capture and better stabilization for better selfies, and Quad-LED True Tone flash that is 50% brighter than the iPhone 6.
A10 Fusion Makeover
Apple says it has redesigned its A10 Fusion chip in order to bring more power to its iPhone 7 smartphones and to help enable longer battery life. The CPU now has four cores—two high-performance cores that run up to two times faster than the iPhone 6, and two high-efficiency cores that are capable of running at just one-fifth the power of the high-performance cores. The A10 Fusion chip also includes graphics performance that is three times faster than the iPhone 6 at half the power consumption.
Both iPhones include support for up to 25 Long-Term Evolution bands with three times faster data rates than the iPhone 6 at up to 450 Mbps. The new smartphones will also support Japan's FeliCa contactless technology, so it will be able to use credit and prepaid cards, including iD and QuicPay domestic networks.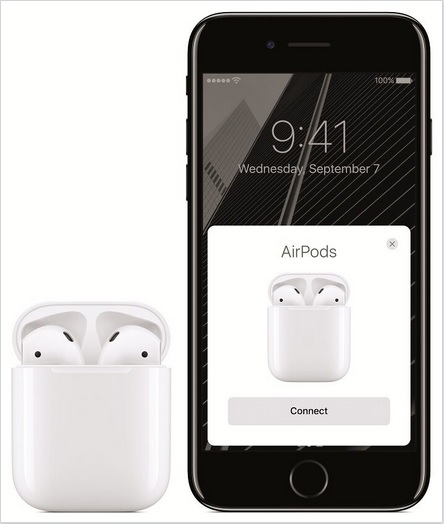 The new iPhone 7 and iPhone 7 Plus will not include a headphone jack. Instead Apple is pushing its wireless headphones, known as AirPods, but will support an adapter so that legacy headphones will still connect via the Lightning Port. Source: AppleKilling the Headphone Jack
One of the more interesting aspects of the new iPhone 7 and iPhone 7 Plus is the elimination of the headphone jack in the smartphones. While this had been well rumored, the move is controversial as it will force Apple iPhone users to either buy new wireless headphones that Apple is offering or to plug an adapter into to the Lightning Port that charges the iPhone in order to use legacy headphones.
The move is seen as Apple trying to accelerate the adoption of Bluetooth technology. Apple's AirPods—wireless headphones—will be sold separately from the phone at a cost of $159, but every new iPhone 7 and iPhone 7 Plus will come with the headphone adapter. AirPods also allow use through Siri.
The new smartphones will be available in more than 25 countries, beginning on Sept. 16, in 32 GB, 128 GB and 256 GB models starting at $649.
To contact the author of this article, email engineering360editors@ihs.com