Apple has announced the next versions of its best-selling smartphones, the iPhone 6S and 6S Plus. While the 6S looks identical to its 4.7 inch iPhone 6 except for its rose gold option, its hardware interior has evolved.
The most noticeable change is the "3D Touch," feature, a pressure-sensitive display technology that lets you push in to call up secondary menus and actions when you press and hold the screen and access shortcuts from the home screen. So far in addition to the 3D Touch, observations are that there is a faster processor, Series 7,000 aerospace-grade aluminum and sturdier glass.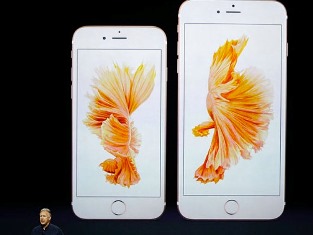 The new models feature the animated screen savers of the Apple Watch. Photo: APApple has included a variation of Force Touch, found in different capacities on the Apple Watch and on some Mac trackpads. iPhone 6S phones will adopt the same pressure-sensitive capability.
One 3D touch app is within the email inbox, by applying fingertip pressure to an element in the message will surface more information, such as a flight number on an emailed travel itinerary, which Apple calls "peeking in." Pressing harder on an app will likewise generate more options, like viewing all the photos of a contact's Instagram photo stream. In the context of a game, pressing harder could zoom you in to get closer to the action.
With the 3D touch capability, menus gently pop up and photos come alive. The implementation seems designed to feel invisible and comfortable, not weirdly magical.
However, the biggest news is the upgraded front and rear cameras and video capability. A 12-megapixel camera is a huge jump for Apple. Autofocus picks up the pace and greater color accuracy is obvious.
The 5-megapixel front-facing camera includes a proprietary voice chat feature. Instead of including a dedicated flash for the front-facing camera, Apple is using the home screen to light up to increase the brightness of selfies in low-light situations.
Live Photos is a default that turns stills into a video or GIF automatically adding motion and sound. Live Photo is about twice the file size as a regular photo plus 4K video capabilities and storage becomes more of an issue. Also included is 4K video recording, at 3,840 x 2,160-pixel resolution. iPhone 6S Plus is the only model here with optical image stabilization to correct blur from shaking hands.
Other features include, an upgraded proprietary A9 processor, a third-generation 64-bit chip that Apple says is 70% faster than the A8 for computing tasks and 90% faster at graphical tasks. The two new iPhones run on iOS 9, mining all of those software enhancements, like a smarter Siri and up to three hours longer battery life, plus a new Low Power Mode.
The iPhone 6S and its 5.5-inch twin, the 6S Plus, will be opened for preorder on September 12, with phones arriving in stores around the globe on September 25. In the US, the 16GB version that starts at $200 on contract (the 6S Plus will cost $300 on contract). In the UK, the iPhone 6S costs £539 (16GB), £619 (64GB) and £699 (128GB). In contrast, the 6S Plus will go for £619, £699 and £789, respectively. In Australia, the iPhone 6S costs AU$1,079 (16GB), AU$1,229 (64GB) and AU$1,379 (128GB). The 6S Plus will go for AU$1,229, AU$1,379 and AU$1,529, respectively.
Apple has also introduced a new pricing plan, for the US only for now, that starts at $32 per month (for the 16GB version iPhone 6S) for 24 months, with the option to upgrade to a new iPhone each year.
Questions or comments on this story? Contact the author of this article, email engineering360editors@ihs.com