While numerous companies rolled out 5G smartphones since the initial deployment of the technology the one company that did not was Apple. However, that changed in late 2020 with the introduction of the iPhone 12 series with 5G installed.
Apple's venture into 5G has been a long road with the company initially planning to use Intel 5G modems after Qualcomm and Apple were engaged in a lawsuit. After the lawsuit was settled, Apple planned to use Qualcomm modems once again for its initial 5G rollout.
After this, Intel put its 5G modem business up for sale, and Apple acquired this business in July of 2019. Analysts believe that after the iPhone 12 rollout, it is highly likely Apple will develop its own modems for future smartphones.
Apple said in a statement that it would use the acquisition to help expedite the development on future products and allow Apple to differentiate from other smartphone vendors moving forward. Additionally, it will give Apple a way to strike better deals with other major 5G patent holders and differentiate its offering from an increasingly competitive 5G landscape.
The current model of iPhone 12 smartphones includes both sub-GHz and millimeter wave (mmWave) technology, lidar for augmented reality applications, sensors and is powered by Apple's 64-bit hexa-core applications processors with Qualcomm's 5G modem.
The following is a partial deep dive into a Teardown of the Apple iPhone 12 Pro Max 5G smartphone conducted by TechInsights.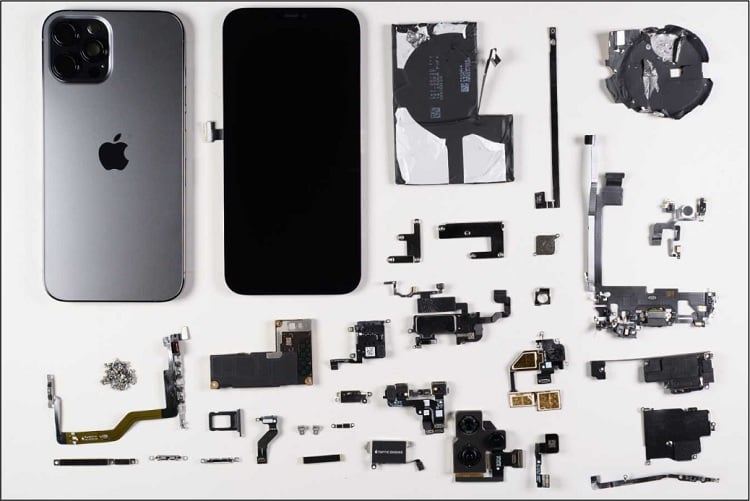 The complete components from TechInsights' teardown of the iPhone 12 Pro Max. Source: TechInsights
Summary points
6.64-in OLED with touchscreen
6GB mobile LPDDR4X synchronous dynamic random-access memory
Apple 64-bit hexa-core applications processor
Qualcomm Snapdragon X55 5G modem with memory
5G mmWave subsystem
Target market: Mobile
Released: October, 2020
Pricing: $1,099
Availability: Worldwide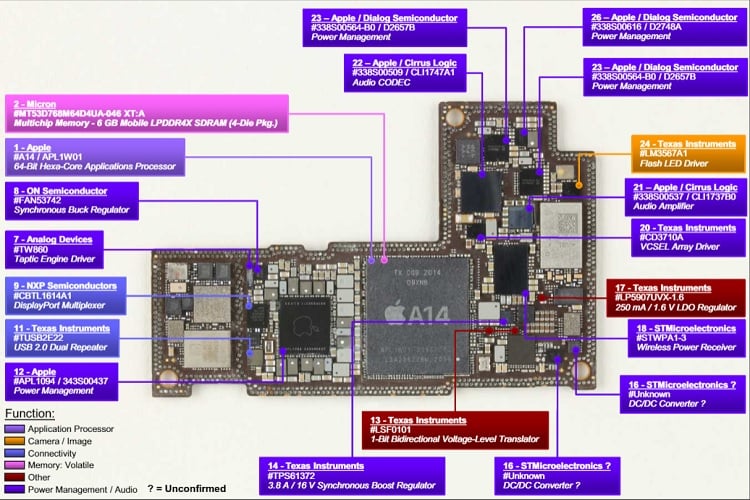 The main board with labeled components of the iPhone 12 Pro Max. Source: TechInsights
Main board
The main board contains the vital components for iPhone 12 Pro Max including the Apple processor, the APL1W01 hexa-core processor, the Micron memory, audio amplifiers, power management integrated circuits (ICs) and other analog and digital parts.
(Learn more about CPU chips on GlobalSpec.)

The mmWave board found inside the iPhone 12 Pro Max. Source: TechInsights
5G mmWave subsystem
The 5G mmWave board features the Qualcomm 5G RF transceiver and Qualcomm power management devices along with associated components.
(Learn more about chip antennas on GlobalSpec.)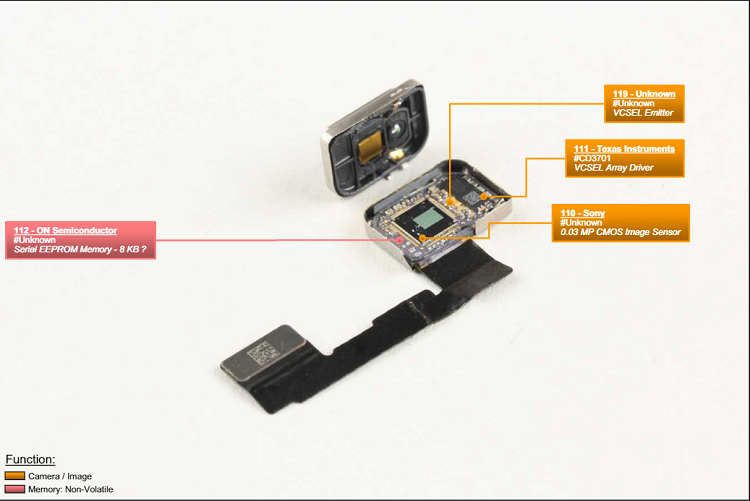 The lidar IC identification inside the iPhone 12 Pro Max. Source: TechInsights
Lidar scanner IC identification
The lidar scanner is used to sense and measure depth and can be used to help with augmented reality apps used in the iPhone 12 Pro Max. The subsystem includes Sony's complementary metal–oxide semiconductor image sensor, TI's array driver, On Semiconductor's electrically erasable programmable read-only memory and vertical-cavity surface-emitting laser.
name="_Hlk60486204">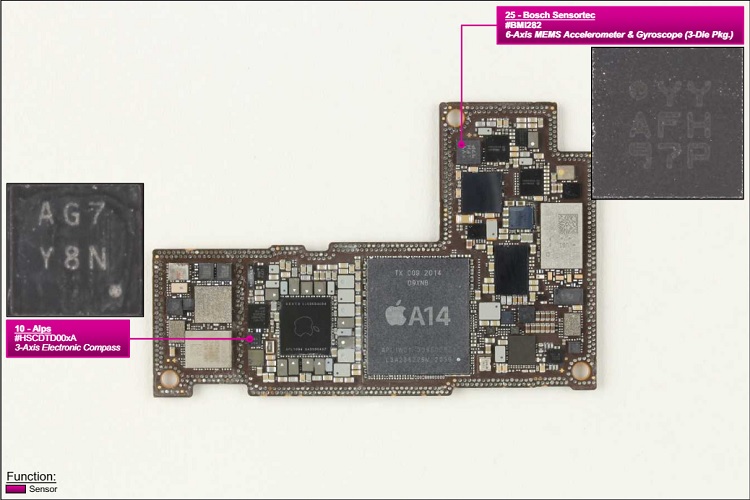 The sensor subsystem includes an accelerometer, gyroscope and electronic compass inside the iPhone 12 Pro Max. Source: TechInsights
Sensor subsystem
The sensor subsystem includes the following ICs: a 6-axis micro-electromechanical system accelerometer and gyroscope from Bosch Sensortec and 3-axis electronic compass from Alps.
Major components
$73.27 – Apple 64-bit hexa-core applications processor
$63.35 – main enclosure
$56.12 – Samsung 60 Hz display/touchscreen display subsystem
$35.90 – LG Innotek 12-megapixel wide-angle rear camera subsystem
$25.74 – Qualcomm Snapdragon X55 5G modem with memory
$25.50 – 12-megapixel telephoto rear camera subsystem
$19.93 – Micron multichip memory, 6 GB mobile LPDDR4X synchronous dynamic random-access memory
$19.71 – USI 5G mmWave subsystem
$16.13 – LG Innotek 12-megapixel ultra-wide angle read camera subsystem
$15.72 – Qualcomm RF transceiver + GPS