Allegro MicroSystems, LLC has introduced an automotive AEC-Q100-qualified power management IC. The 
A4450
 can implement either a buck or buck/boost regulator to efficiently convert automotive battery voltages into a tightly regulated voltage, with seamless transition between the buck and boost modes. This device is targeted for the 
automotive
, industrial and instrumentation markets with end applications to include infotainment, instrument clusters, telematics, amplifiers and control modules.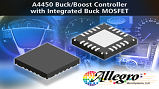 Allegro A44590 buck/boost controller. Source: Allegro Microsystems
The A4450 is suited for automotive input environments where battery input voltage supply can vary above and below the required output voltage, and a single-inductor or single-stage conversion is desired. The wide input operating voltage range of 3 V to 36 V makes the A4450 suitable for a range of automotive infotainment applications and handles idle stop/start, cold crank, double battery and load dump conditions. The A4450 features high-voltage battery compatible enable input to accommodate for switched battery input applications. The A4450 provides regulated output voltage ranging from 3 V to 8 V with load current up to 1 A DC. The PWM switching frequency range is 250 kHz to 2.4 MHz, and frequency dithering and controlled switching transitions minimize EMI. The A4450 maintains stability, even when the input and output voltages are at nearly the same level as well as through line and load transient events.
Protection features include pulse-by-pulse current limit, hiccup mode short-circuit protection, LX short-circuit protection, missing freewheeling diode (buck diode at LX node in A4450). The enable input is compatible to a high-voltage battery level, and a power-on reset output is integrated.
The device is available in a 20-lead, 4 mm x 4 mm QFN package and AEC-Q100-qualified. List price is $1.42 in quantities of 1,000.