The LT8391 from Linear Technology is a synchronous buck-boost DC/DC LED controller that regulates LED current from input voltages above, below and equal to the output voltage. Its 4 V to 60 V input voltage range suits it for a wide variety of applications, including automotive, industrial and architectural lighting. Similarly, its output voltage can be set from 0 V to 60 V, enabling it to drive a wide range of LEDs in a single string.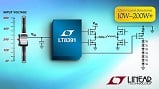 Linear Technology LT8391 buck-boost controller. Source: Linear
The four-switch buck-boost controller, combined with four external N-channel MOSFETs, can deliver from 10 W to over 100 W of LED power. Its buck-boost capability makes it suitable for applications such as automotive ones, where the input voltage can vary dramatically during stop/start, cold crank and load dump scenarios. Transitions between buck, pass-through and boost operating modes are seamless, offering a well-regulated output, in spite of wide variations of supply voltage.
The LT8391 provides both internal (128:1) and external (2,000:1) LED current PWM dimming using an external high side PMOS switch. It is offered in either a 28-lead 4 mm x 5 mm QFN or a thermally enhanced TSSOP to provide a very compact solution footprint.
The part incorporates four external N-channel MOSFETs to deliver up to 100 W of continuous LED power with efficiencies up to 98%. LED current accuracy of ±3% ensures constant lighting. The proprietary peak-buck, peak-boost current mode control scheme allows adjustable and synchronizable 150 kHz to 650 kHz fixed frequency operation or internal spread spectrum operation for low EMI. Additional features include integrated bootstrap diodes and open and short LED protection with fault reporting.
The LT8391EFE is available in a 28-lead thermally enhanced TSSOP package, and the LT8391EUFD is offered in a 28-lead 4 mm x 5 mm QFN package. Industrial-grade versions, the LT8391IFE and LT8391IUFD, are also available. Pricing starts at $4.65 each in 1,000-piece quantities. All versions are available from stock.