So, who is
Allen Pan
, anyway? Pan is a freelance engineer who became a YouTube sensation. If you peruse his YouTube channel, you'll find some conventional technology videos such as building lightsabers, but you'll also find innovative projects, such as a video where Pan teaches blind students about simple circuits.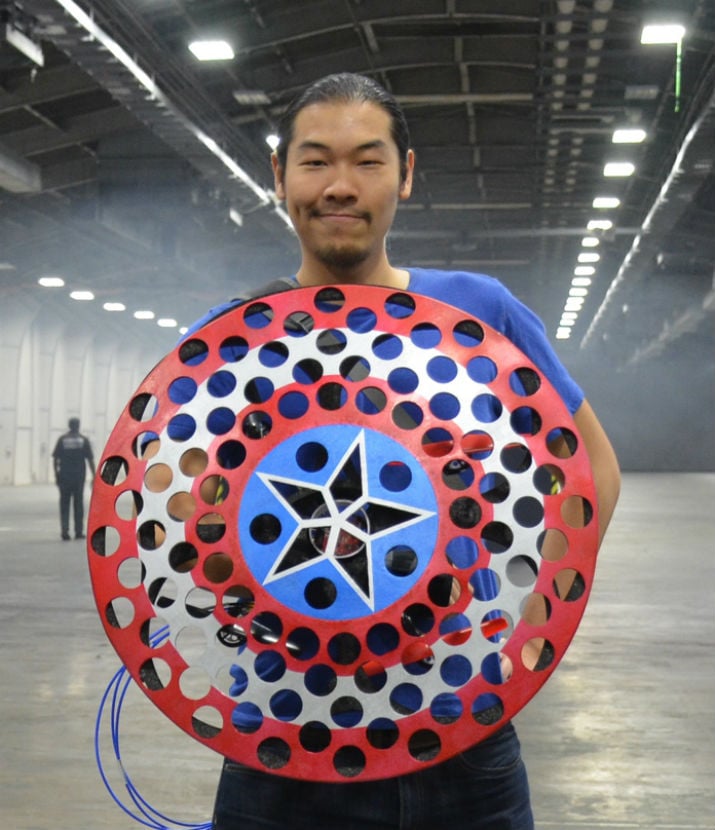 Grant Imahara and Allen Pan show off their Super Hero creations as part of Mouser and Marvel's Empowering Innovation Together Project Hero Series, co-sponsored by Molex. (Image Credit: Mouser Electronics)
Most recently, Mouser recruited the engineer to take part in its Empowering Innovation Together program, which involves cutting-edge projects designed by former "Mythbusters" star Grant Imahara. The latest addition to the series, called "Project Heroes," involves the new "super team" composed of Grant, viral video celebrity engineer Allen Pan and Marvel Entertainment. Together they set out to build Superhero technology straight from the movie Marvel's "Captain America: Civil War" using electronic components from some of Mouser's manufacturers, such as Platinum Partners Molex and Analog Devices.
For example, Pan developed Captain America's shield based on quadcopter drone technology in which he employed Molex Temp-Flex cable assemblies to deliver high cutoff frequency, phase stability and low insertion loss in harsh environments.
If you are not familiar with the cool technology they have come up with recently, or the series, check out the "Project Heroes" website.
If you are intrigued, you even have the opportunity to engage in a Twitter party with Pan on Tuesday, June 14th. You can join in with @MouserElec and Allen Pan for a live Q&A about making #SuperheroTech and more! Get involved by sending questions to #MouserParty.