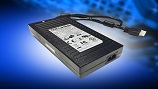 TDK Corporation has introduced the TDK-Lambda medical and ITE certified DTM300-D external power supplies. This series offers a choice of class I or class II (no ground connection) inputs and meets the stringent Level VI DoE standards for efficiency and off-load power. The DTM300-D is certified to both the medical IEC 60601-1 and ITE IEC 60950-1 standards, suiting it for medical, industrial, and test and measurement applications.
The convection-cooled DTM300-D is housed in a rugged, vent-free enclosure, measuring 222 mm long x 112 mm wide x 45 mm high. AC is applied using the standard IEC 60320-C14 (3-prong) or 60320-C18 (2-prong) connector and DC provided through a ten-pin Molex Mini-Fit® connector. Other connectors are available upon request. The adapters also feature over-voltage and over-current protection.
Accepting a 90 to 264 VAC input, the 300 W adapters are available with 12 V, 19 V, 24 V, 28 V, 48 V and 54 V outputs and can operate in ambient temperatures ranging from -30 to 60°C (derating linearly to 50% load from 40 to 60°C). In addition to satisfying DoE Level VI requirements with an average efficiency of greater than 88%, the power supplies have an off-load power draw of less than 0.5 W.
The DTM300 has been certified to IEC/ES/CSA/EN60601-1, IEC/UL/CSA/EN60950-1 and carries the CE mark for the Low Voltage, EMC and RoHS2 Directives. All models meet EN60601-2, IEC60601-1-2 Ed4:2014, EN55011/EN55022 Class B, EN55024 Class B, FCC Part 15 Class B, FCC Part 18 Class B emissions and immunity standards. Input to output isolation is 4,000 Vac (2 x MoPP), with a touch current of <100 µA. Class I models are suitable for BF rated equipment with an output to ground isolation of 1,500 Vac.