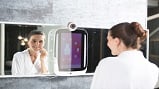 HiMirror™ skin care mirror. Source: HiMirror
The newly launched HiMirror™ offers an in-depth, personalized skin care analysis based not only on the evolving condition of the person's skin, but also local weather conditions and other factors.
The new product, exclusively available for $189 for the standard device and $259 for the device with multi-ambiance makeup light on HiMirror.com, will be augmented by a companion product, Smart Body Scale ($79), which provides similar body and weight analysis and corresponding exercise solutions.
HiMirror™ measures 11 × 16.5 inches, is humidity-resistant, and can be easily installed in a bathroom, closet or bedroom walkway, affixing to a wall or a mirror. An integrated high-resolution camera and proprietary technology offers in-depth complexion analysis. By taking a makeup-free photo, HiMirror detects dark spots, red spots, dark eye circles, wrinkles, pores, fine lines and other complexion elements. From these it creates a personalized Skin Index Synthesis report—an evaluation of skin firmness, brightness, texture, clarity and overall healthiness.
Wi-Fi-connected and Bluetooth-enabled, HiMirror™ can also display the local weather, sync with Google Calendar and even play Spotify. With its facial and voice-recognition capabilities, HiMirror™ can also assist multiple family members, tracking their individual skin needs and recommendations.
HiMirror™ keeps an ongoing log of a person's skin to track skin care goals and the results of products used. It also allows users to provide feedback on products. Skin care products can be scanned into the system by barcode, with reminders sent for any product expirations. HiMirror™ comes with a mobile application, enabling users to track and tweak skin care needs on the go.
Accessories being rolled out along with HiMirror™ include Smart Body Scale, which allows users to measure their weight, body mass index, body fat, water level content, muscle mass, bone weight, resting metabolism, body type, and so forth.