Valeo, a Tier-1 supplier to automotive manufacturers, announced the addition of a low-cost, solid-state LiDAR based on Leddar technology to its portfolio of driving and parking assistance solutions.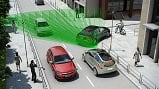 Solid-state LiDar holds big promise for automotive apps. Source: LeddarTech.
The solid-state LiDAR, developed by Valeo, together with LeddarTech, will have no mechanical moving parts and reportedly will be the least expensive LiDAR sensor on the market. Based on a proprietary receiver ASIC with 16 discrete detection segments, the LiDAR sensor can accurately detect pedestrians, bicycles, motorcycles and cars. Its purpose-optimized optical system enables a detection range of up to 100 meters.
This solid-state LiDAR is part of the Valeo Intuitive Driving® initiative that aims to make cars easier to drive, smarter and safer. As its field-of-view is easy to adapt, the sensor can enable various functions from Autonomous Emergency Braking (AEB) to Right Turn Assist (RTA) features (for commercial vehicles). It can also contribute to automated driving functions, such as traffic jam assist or automated parking. The sensor works as well at night, in low-light situations, and in adverse weather conditions, such as rain or fog.