Legrand, North America has debuted the Wattstopper PW-311 passive-infrared (PIR) 0-10 V dimming wall switch occupancy sensor to meet the growing demands of energy efficient LED lighting systems. Using its integral PIR sensor, the PW-311 c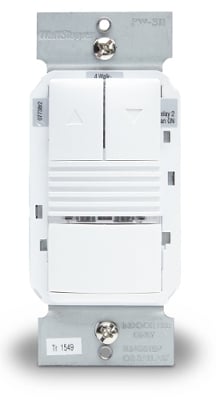 Legrand's Wattstopper PW-311 combines LED light switching and dimming with a passive-infrared occupancy sensor. Image source: Legrand North America.an turn lights on and off based on occupancy. The new sensor provides occupancy and dimming control that supports the latest electrical and energy code requirements, including ASHRAE 90.1 (2010) and California Title 24, for small commercial applications such as conference rooms, private offices, classrooms and break rooms.
Highlighting cost-competitiveness, ease of use and ease of installation, Legrand considers the PW-311 to be ideal for new construction and retrofit upgrades using LED loads. By integrating switching, dimming and occupancy-sensing functions into one product, the PW-311 saves customers from the need to purchase and install multiple control devices per room.
A function that Legrand brands as "Neutral Sense" allows for optional neutral connection, which simplifies compliance with 2011 National Electrical Code (NEC) requirements for a neutral wire in the wall-box in new construction projects. Legrand says that Neutral Sense products ensure out-of-the-box compatibility with existing wiring—whether or not a neutral wire is available at the switch location.
Multi-way capability expands and enhances coverage of the space with full-function multi-way control from one to up to four control locations.
The PW-311 is designed to blend seamlessly into any décor and offers six color options with matched lenses and low-profile design.