Internet Enabled Consumer Devices
Omron Smart Homes and Buildings Solutions Improve Lives
06 June 2017
Sponsored content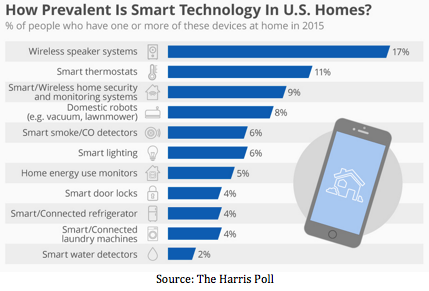 Source: The Harris PollThe implementation of intelligent technology within our home and building environments is dramatically changing how we live and work. At the heart of "smart" are relays, switches, connectors, sensors and advanced image sensing/human vision components that deliver energy savings, convenience, comfort and Internet of Things (IoT) connectivity. Omron is uniquely positioned to deliver a broad base of electronics that deliver smart thermostats, smart/wireless home security and monitoring systems, smart lighting, smart door locks and more, that enable design engineers to match today's advanced components with tomorrow's intelligent devices.
Research firm Gartner predicts that a typical family home will contain more than 500 smart devices by 2022. Devices include TVs, set-top boxes, smart lightbulbs and such home automation tools as smart thermostats and home security systems. Gartner further estimates that the rapid growth of smart home platforms via an ecosystem of appliances, infotainment and sensors, will result in smart home investments overtaking those in commercial buildings in 2018.
By 2016, there were already 1.6 billion "things" connected in smart cities, an increase of 39 percent over 2015 figures. Smart commercial buildings represent the highest IoT users through 2017 when smart homes, predicts Gartner, will move into the lead.
Driving forces behind smart home and building markets are the desire for simplicity, the need for energy usage optimization, and a decrease in operational costs, combined with technology advancements in the fields of IoT, cloud, sensors and mobility.
In buildings, there is a move toward a centralized system for controlling and monitoring of various devices, such as lightning; heating, ventilation and air-conditioning (HVAC); and surveillance. Within these smart commercial buildings, the IoT is already reducing energy, spatial management and building maintenance by up to 30 percent.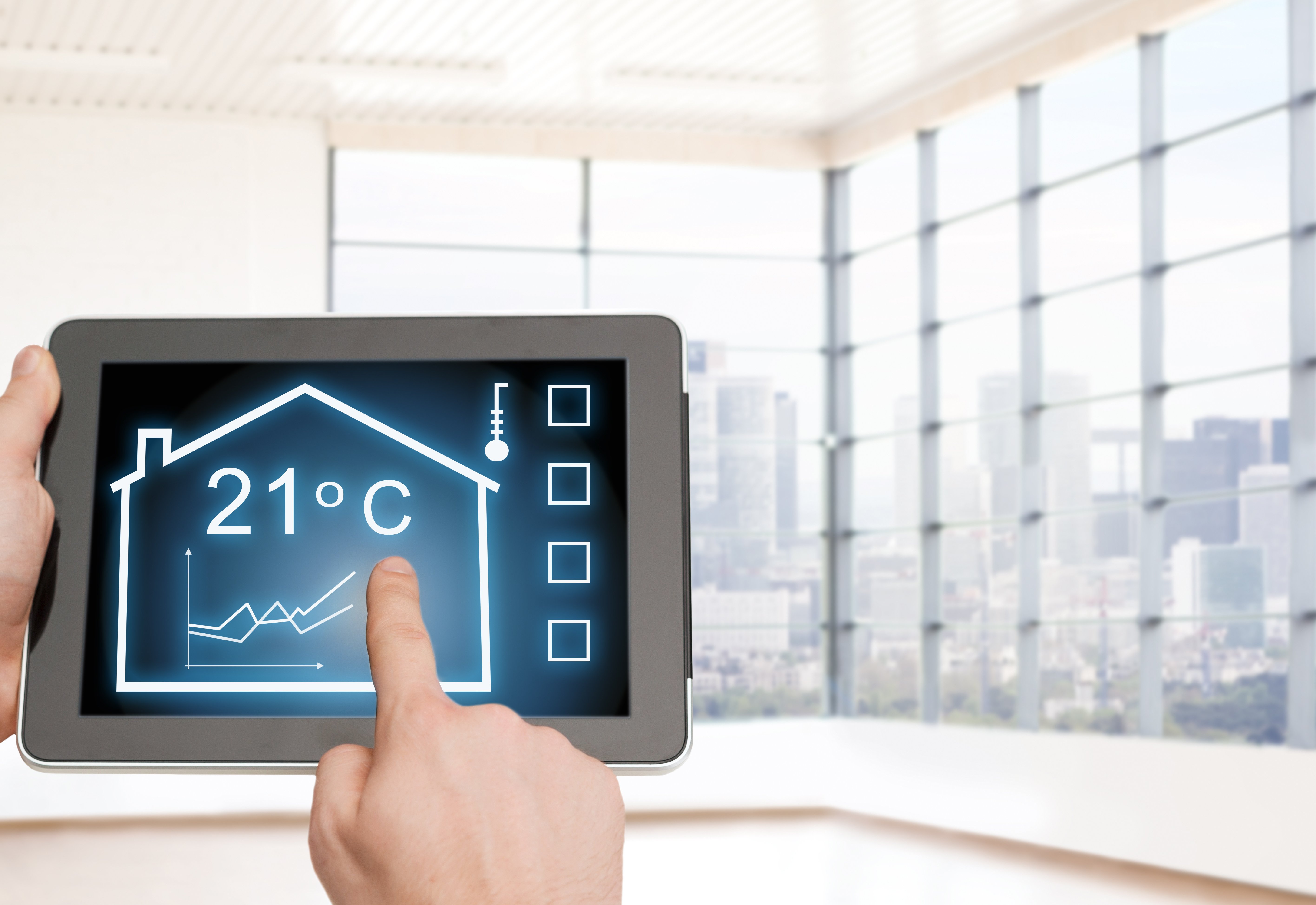 Smart homes accounted for 21 percent of total IoT use in smart cities in 2016 and will represent the fastest growth over the next several years. The homes will move from greater interconnectivity to information and smart-enabled integrated services based on device and wireless standards that are embedded in more devices, as well as the availability of innovative components that provide the smooth interface between users and the environments they want to control.
Relays
Omron's small, high-performance relays include power PCB relays, MOSFET relays and signal and HF relays.
Switches
From basic switches to door switches, unsealed basic detection to miniature rocker, and tactile switches, Omron's offerings address a wide range of applications and production processes.
Connectors
Reliable interconnection for miniaturized products by Omron includes solutions such as USB connectors, which are critical for smart home or building applications.
Sensors
Omron's thermal sensors provide the ability to switch lighting and air conditioning on and off based on room occupation by a human. Infrared sensors are used in HVAC, lighting and smoke/fire monitoring and detection.
Image Sensing Technology
Omron is the undisputed global leader in imaging sensing products. Its OKAO technology delivers a human interface to a variety of devices by detection and recognition, motion tracking and enhanced facial detection.
While smart home inhabitants are motivated by optimizing comfort, energy savings, convenience and the ability to add IoT devices, smart building occupants have the same motivations but on a larger scale. Intelligent buildings rely on control technologies to enable integration, automation and service and equipment optimization. Omron's end-to-end solutions are used in such important smart home/building applications as:
Intelligent HVAC Systems and Smart Thermostats
HVAC Sensors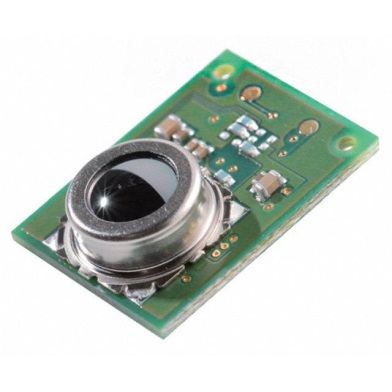 Omron's infrared sensor, the D6T, represents a versatile solution for smart home or building automation applications. Omron's D6T addresses a multitude of needs: automating the buildings HVAC systems, efficiently controlling a lighting system or even detecting fires. The D6T combines customized MEMS thermopiles, an ASIC and a microprocessor, housed in a small form factor, capable of measuring the temperature of a subject or space by detecting infrared radiation.
Available with two different lens options, 1 x 8 and 4 x 4 arrays, Omron's unique D6T design and digital output and an exceptional signal to noise ratio (SNR) allow for high noise immunity and ensures superior sensor accuracy. The sensor can measure the temperature of an entire area without contact, providing more accurate feedback to the HVAC system when compared to standard thermopile technology. The signals generated by the sensor output allow you to assign temperature information to a specific cell (1 x 8 = 8 cells, 4 x 4 = 16 cells) to determine the temperature of the person or area in that assigned cell. The sensor monitors temperature changes, for example, when more people enter a room and communicates to the HVAC system specific areas that need attention. The D6T controls the HVAC system so that no energy is wasted in heating or cooling the building.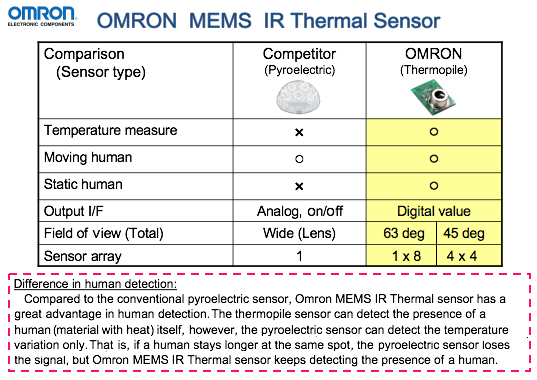 Compared to conventional pyroelectric sensors, Omron's MEMS IR thermal sensor has a great advantage in human detection. The thermopile sensor can detect the presence of a human itself by sensing infrared radiation; however, the pyroelectric sensor detects temperature variation only. When a human remains in the same spot, a pyroelectric sensor loses the signal. Omron's MEMS IR thermal sensor continues to detect the human's presence, no matter the length of time they remain inactive.
In residential applications, a smart thermostat takes the place of a complex HVAC system. In this case, the D6T measures the amount of heat in the room and communicates directly with the thermostat, adjusting for appropriate temperature levels.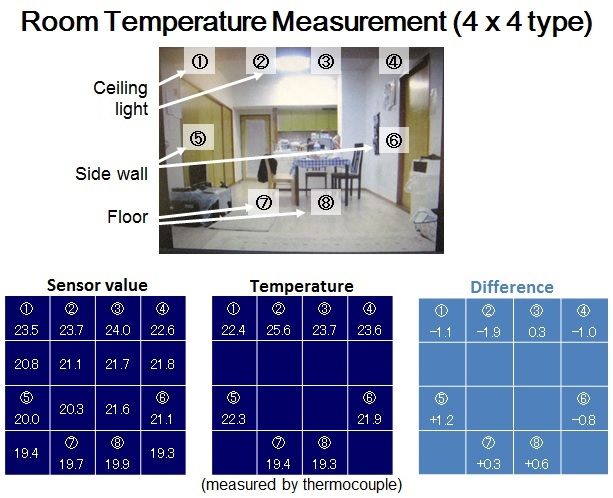 HVAC Relays
G5Q 10A Power Relay
HVAC in smart homes and buildings involves valve, motor and heater control; big picture systems; and high-current switching for big systems.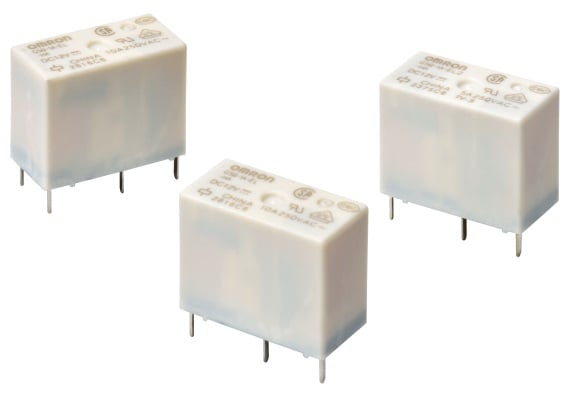 The G5Q miniature power relay with one-pole 10A capability offers excellent switching performance for a variety of loads. Featuring 8-kV impulse withstand voltage (between coil and controls) and a low-coil power consumption range of 200 mW to 400 mW, the G5Q is used on HVAC systems for higher current applications. Omron's G5Q-EL model accommodates the needs of 100K operations at 250VAC/10A and G5Q-EL2 for 40A high-inrush current applications.
G2RL 16A Relay
The G2RL Low-profile power relay switches up to 16A for HVAC Applications such as boiler, pumps, blower fans and igniters.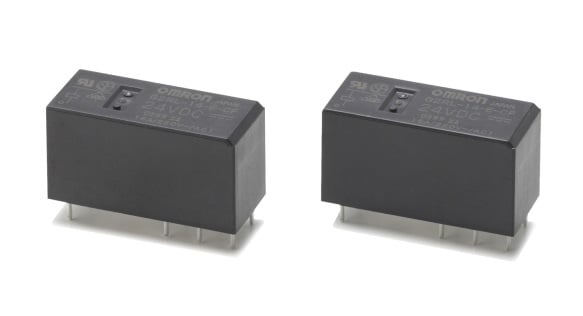 In addition to the previously mentioned relays, there are smart thermostat relays that represent a smaller segment of HVAC systems and include:
G6S/G6K Signal Relays


OMRON's G6K low-signal, surface-mounting relay boasts the world's smallest mounting area, measuring a mere 5.2 mm x 6.5 mm x 10 mm, provides switching up to 1A and can carry currents up to 2A. In comparison, the G6S relay is an industry-standard two-pole relay designed to switch 2A signal loads and has high dielectric strength of 2000VAC. The G6K and G6S are ideal for high-density mounting and are offered with an inside-L terminal structure, occupying less board space.
Another interesting feature is the bistable (or latching) option that allows them to maintain their last switching state without constantly powering the coil, further saving energy. They are ideal for thermostat controls, home appliances, building automation and security equipment
MOSFET Relays
MOSFET relays are the solid-state alternative to electromechanical relays. For smart home applications,
they offer miniaturization so that thermostat controls can be thinner and closer to the wall. The MOSFET relay is optically isolated, which is an advantage for its MOSFET chip counterparts. It offers easier circuit design and reduces board area, the number of components and mounting man-hours required.
Smart Lighting
The ability to switch lighting on and off based on occupancy sensing and space layout is important within both smart homes and buildings. Lighting can be monitored, which relies on switching and dimming to maintain a consistent and comfortable level and can be focused on the segment of the room where it is needed. Adding daylight to a building or home can achieve an energy-efficient design. Lighting can make occupants happier, healthier and more productive. By reducing electric lighting and minimizing solar heat gain, controlled lighting reduces a building's air-conditioning load.
G5RL Relay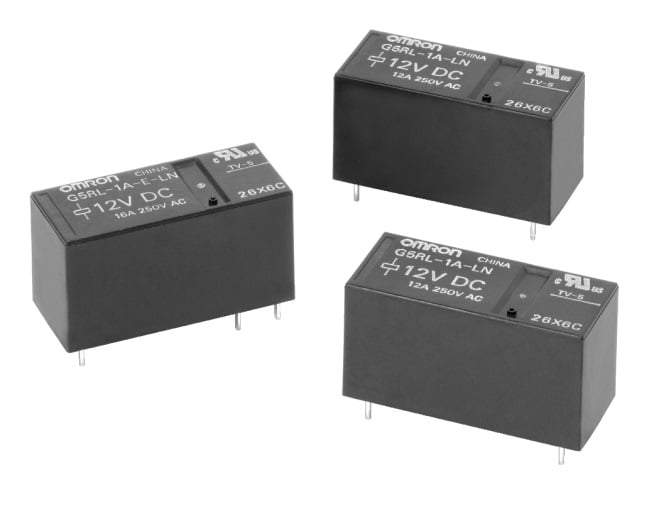 The Omron G5RL low-profile relay includes several models targeting lighting applications, as well as air conditioners and home appliances. Switching up to 16A and a mere 15.7 mm high, it features AC and DC standard coils, latching, low noise and high-inrush options.
The Omron G5RL also meets the UL TV-8 standard that exposes components to 117A inrush currents. The G5RL relay can switch 1,000 W to 2,000 W and the latching model is approved to a VDE standard demanding resistance of over 150A inrush. As smart homes and smart buildings continue to move from standard lamps to LEDs and fluorescent inverter lighting circuits and as the IoT continues to gain traction, lighting control systems implemented via communications lines will become more prevalent. To achieve this, lighting will require relays with a current at 16A, high inrush current to 200A at 120VAC and low-coil consumption in standard or latching coil. Omron is continually expanding its G5RL product family to provide solutions that meet all required and evolving specifications.
D6T Sensor
In intelligent lighting system applications, human presence recognition is crucial to ensuring efficient light switching and sustainment. The D6T by Omron solves the shortcomings of motion sensors, such as recognizing a constant presence of a stationary human and differentiating between human movement and movement from the surrounding environment.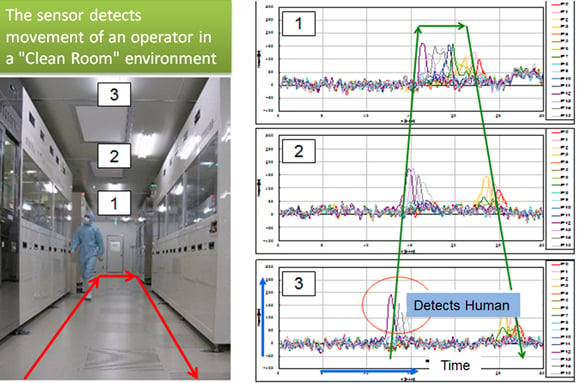 The D6T's exceptional ability to detect human occupancy shows that it is a valuable component in any smart lighting application. The D6T's intelligent and superior design succeeds and ensures lighting control. For any building design requiring strict energy efficiency requirements, Omron's D6T meets those requirements.
Central to smart-building and smart-home lighting is the ability to save energy by reacting to human presence by dimming lights. Omron's vision-sensing software (OKAO) dims lights in the absence of human occupancy and turns lights back on when humans are present.
Smart Vision Sensing
Omron's OKAO technology, first introduced in its OKAO Vision Face Recognition Sensor in 2005, is the basis for today's OKAO Vision Sensing Software. The OKAO software senses 10 different features of a human, including: face and body detection, age and gender estimate, gaze and face direction and expression detection. The most crucial element for smart building or home applications is human body detection. OKAO
recognizes 35 different humans within a camera's view. It can control lighting to create lighting based on the number of people present. OKAO software can be installed into any existing camera system, or Omron can provide a complete solution with its Human Vision Component modules.
Human Vision Components (HVC-P2)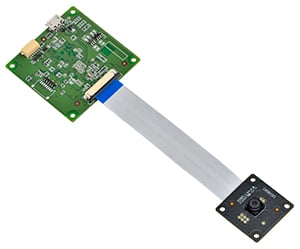 Omron's second generation human vision component provides a complete human occupancy detection solution. The HVC-P2 comes in two lens options, 50° and 90° horizontal range, to accommodate long-range and general-purpose applications. Human bodies can be detected up to 15 m away. The HVC-P2 module consists of a 45 mm x 45 mm main board connected via FPC to a 25 mm x 25 mm camera board. The small size of the model allows it to fit into applications without severely impacting board space.
Access Control/Security
Access control systems are a critical component of smart building and smart home safety. The combination of heat, light, elevators, ventilation with IoT systems creates a more pressing safety risk. In buildings, the access system interfaces with fire alarms, video surveillance and HVAC, and shares data with such business systems as human resources for time and attendance reporting.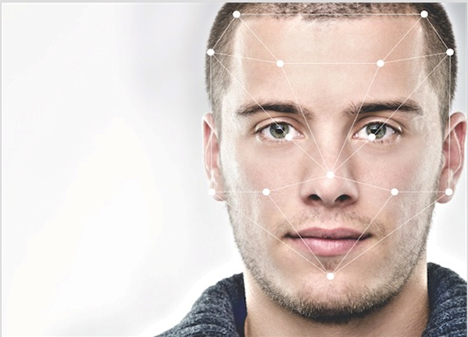 The access control system must maximize security. Examples include limiting elevator access based on occupant identity and security levels. Access control systems generate occupancy statistics that can correlate occupancy to energy consumption, lighting or other parameters.

Today, human-detection vision sensing is fundamental to access and security applications. Omron is a recognized leader in human-detection vision sensing. The ability to recognize features and presence contributes to improved security for smart homes and buildings. Omron's easy-to-implement OKAO vision face-recognition system is extremely easy to set up. It allows users to take their own photo to be added to the database of authorized personnel, so that the unit then recognizes the individual and provides access.
Relays
G3VM-61G and 61 VY Series MOSFET Relays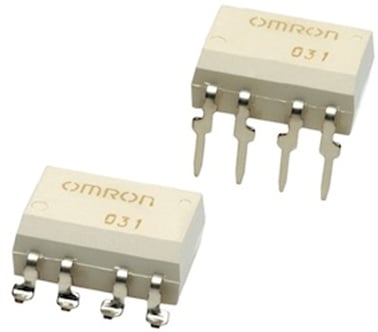 The G3VM-61G and 61 VY are general-purpose MOSFET relays in SOP four-pin packages that support several applications, including security/access control systems for automatic door control and switching within a PIR sensor device for presence detection. The relay features a load voltage of 60V. There is upper compatibility from G3VM-61G1/351G.The operating temperature range is –40° C to +110° C. It also features high dielectric strength of 3,750 Vrms and a special SOP4-pin is available.
Switches
D3V Snap Action Switches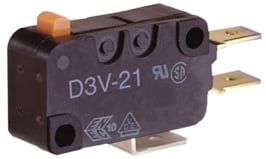 The D3V snap action switch is a reliable, basic switch available with an external or internal lever. Available in several models and current ratings, all with self-cleaning contacts, the switch is used across a variety of applications, including lighting power on/off and dimmer control.
D2F Series Ultra Subminiature Basic Switch
The D2F snap action ultra-subminiature switch offers plenty of terminal variations and contacts made from two highly precise split springs to ensure long durability. Available in self clinching PCB, left and right angled terminals, this switch is perfect for door detection in security/control units.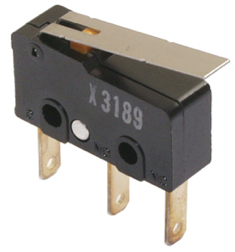 SS Subminiature Basic Switch
The SS subminiature basic switch comes in a wide variety of models from 0.1A to 10A, with operating forces ranging from low to high. Two split spring contact structures offer high stability and durability, which are ideal for detection use in security/control panel units.
B3FS Switch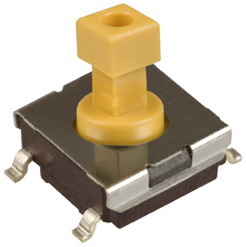 Omron offers a wide range of tactile switches with various operating forces, terminal styles and sealed or unsealed options, which are used as operation buttons in security/control panels. The B3FS, for example, is a surface-mount switch that comes in a wide variety of operating forces. This switch is ideal for high-density mounting and allows reflow soldering. The B3FS offers three actuator heights to allow for design flexibility.
B3SN Switch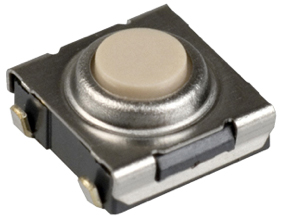 The B3SN is a sealed surface mount switch that features sealed construction conforming to IP67 and is available with ground terminals for protection against static electricity. A gold-plated version enables stable contact and insulation over long periods of time.
Photovoltaic Systems
Photovoltaic systems have rapidly gained traction over the past several years. One market trend in their use, is the move towards PC-board based rapid-shutdown capabilities that avoid shorting hazards due to wiring fault conditions.
G7L-X PCB Power Relay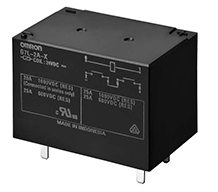 The G7L-X PCB power relay ensures rapid shut down in residential photo-voltaic systems. This feature is particularly important in rooftop solar panel applications where, should there be a fire in the home or building, firefighter and first-responder safety may depend on the automatic shutdown of the panels. The National Electric Code (NEC) 690.12 was recently implemented to ensures the safety of firefighters in PV-powered buildings. It requires high-DC voltage located near panels to be dropped from 600V to 30V in less than 10 seconds in case of an emergency.
Omron's G7L-X compact PCB relay features a best-in-class UL rating of 25A@600VDC and 20A@1000VDC, and provides rapid residential and light-duty commercial application photovoltaic shutdown, G7L-X switches up to two strings per relay. Most residential systems are two-string based and rated at 10KW. The G7L-X is UL rated for 6000 operations at both 600VDC and 1000VDC at 85°C, which is important for the relay's use in harsh environments. A 6mm contact gap is achieved by placing two poles in series and a magnet around the contacts, which helps to drive DC arcs away from the contacts for greater reliability.
The G7L-X contributes to green energy as well as safety of first responders, which, couldn't be more in-line with Omron's mission of working for the benefit of the society. Given increased PV system use and the recent NEC code implementation, Omron continues to follow code changes to enable its customers to design robust and value-oriented solutions and to rapidly adjust to this competitive market.
Fire Detection – An Important Aspect of Security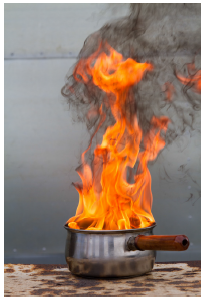 Omron's solutions also provide security through fire detection. While fire detection technology has been around since the late 1800s, development of advanced fire sensing devices is ongoing. Smoke alarms are ubiquitous and provide a warning as soon as smoke is detected. Despite the longevity of the smoke detector, there are certain downfalls. For example, a person could be cooking at home and accidentally set off an alarm from overcooking food. A time delay exists between the time a fire starts and the point when a smoke detector triggers an alarm; these crucial seconds are critical to saving lives and reducing property damage.
With real time sensing, the D6T monitors areas most susceptible to fires. Using the D6T's sensing array, a temperature threshold is set to alert a monitoring system of an actual fire and can distinguish accidental smoke in a home. This safety feature can easily be coupled with other smart monitoring systems such as lighting or HVAC. Omron's infrared D6T sensor could be incorporated with a previously installed or newly designed smart home monitoring system.
Omron's Role
Omron's end-to-end smart home and smart building solutions encompass a variety of components, including switches, relays, sensors, image recognition and more. Constant innovation and expansion of product capabilities and families ensure that Omron will continue to deliver solutions for smart homes and smart building technologies that support the rapidly burgeoning industry that can no longer rely on "one-size-fits-all" solutions. Omron plays an important and substantial role in delivering products that contribute to improving lives for a better society at home and at work.
Join Omron Electronic Components (Booth #1121) at Sensors Expo 2017, June 27-29 in San Jose, Calif. Discover how Omron creates customer value for smart cities of the future! Sign-up now!
Find Free Electronics Datasheets