A thermostat is a device that automatically regulates temperature by controlling the supply of energy, such as gas or electricity, to a heating or cooling apparatus. Thermostats for HVAC systems control the largest percentage, about 35% to 45%, of energy use in a residence.

There are two general categories of thermostat designs: non-programmable and programmable. Non-programmable thermostats are the most affordable design, but the temperature must be set by hand to heat or cool a residence. Programmable thermostats operate by being programmed with specific instructions to adjust heating or cooling based on multiple set points automatically. Newer thermostat designs include connected thermostats, or smart thermostats, which can be programmed from remote locations, such as your bed or the other side of the world.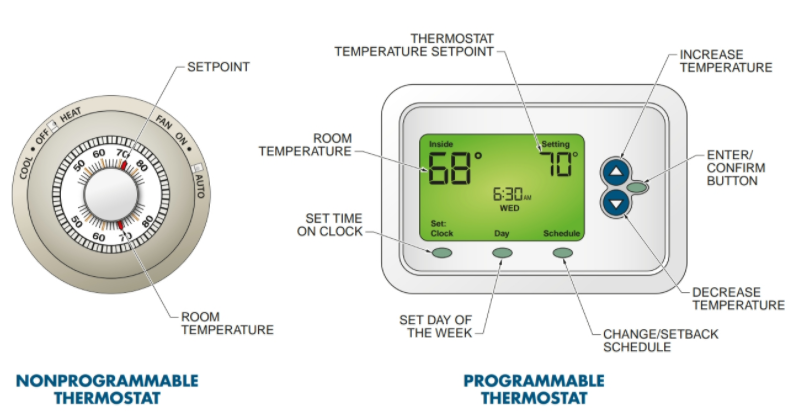 Figure 1. Nonprogrammable vs. programmable thermostats.

Smart thermostats

Smart thermostats are similar to programmable thermostats in that they provide a scheduling function to allow users to preset various temperatures for various times of the day. These systems are managed by user interfaces available via web browsers or dedicated applications.

Smart thermostats may also employ sensors to determine localized room temperatures, occupancy or other parameters that can help make automated or informed, manual programming decisions. Although these technologies are often more expensive than simpler non-WiFi programmable thermostats, their use offers greater control of energy expenses and net savings.

A smart thermostat enabled with artificial intelligence (AI) will remove the need for human input to change room temperatures. These devices can learn about a user's needs using AI or machine learning, and adjust the temperature accordingly. The thermostat uses a sensor to assess occupancy patterns to adjust temperatures automatically based on occupant patterns and behavior. Thermostats often use passive infrared (PIR) motion sensors to tell if the house is occupied or not. The thermostat will suspend heating/cooling if the house is not occupied. Heating or cooling can be triggered manually, by sensing occupancy or a geofence that registers once a user's phone is within a certain distance. Geofencing could be an efficient way to assess occupancy patterns, as most individuals carry their phones with them.

AI also helps to maintain room temperature by modifying the temperature to the environmental conditions, resulting in energy savings and reduced costs. Once a smart thermostat recognizes a specific pattern of use, the device can make decisions on when to adjust temperatures. Preventative maintenance is another benefit, as the system can create service reminders or send alerts when equipment malfunctions.



Figure 2

Many thermostats have cooling time delays. Once the cooling system or heat pump cycles off, there will be an approximately 5-minute time delay before it cycles on again. This is for the protection of the compressor, and the time delay allows the pressures in the system to equalize for easier starts. The time delay also allows the power fluctuation to level out prior to starting the compressor. This is a good option for most pieces of refrigeration equipment.

Temperature settings

A smart thermostat helps to set a custom temperature at various times on different days and also gives recommended pre-set temperatures to balance energy savings and comfort. It could recommend a minor change to routines to save more energy.

Energy Star recommends certain temperature setbacks at different times of the day for maximum energy savings. According to the U.S. Department of Energy, a home can save up to 1% of the energy costs for every degree Fahrenheit that a thermostat is turned down for heat or turned up for air conditioning in an eight-hour period. See Figure 3.



Thermostat location

The location of a thermostat can affect its performance and efficiency. A thermostat should be placed on an interior wall about 5 feet above the floor in a room that is used often., and away from direct sunlight, drafts, doorways, skylights, windows, lamps, televisions, air vents (registers) and fireplaces. Damp areas should be avoided because they can lead to corrosion and shorten thermostat life.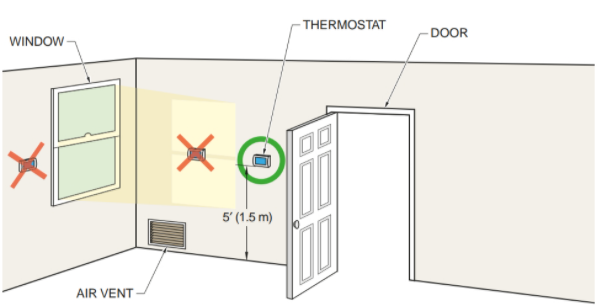 Figure 3. Considerations for new thermostat locations.

Thermostat wiring

Until recently, only four wires were necessary for a thermostat to control the functions of an HVAC system. However, modern thermostats require a fifth wire referred to as the "C-wire," which stands for the common wire or return wire. The C-wire is used to provide a return connection to the 24 V power supply so that a continuous supply of power is available for thermostat digital screens and Wi-Fi transceivers.

The C-wire serves the same functions as a neutral wire in a residential circuit and is located by removing the current thermostat to expose the wiring. The back of the thermostat has a series of letters on a terminal block, indicating connection points. If there are five wires connected to the thermostat, one should be the C-wire. Typically, the C-wire is a blue wire connected to the thermostat, although its color may vary. If the presence of this wire is not apparent, it might be recessed into the wall since some installers push the C-wire into the wall when it is not needed.

Another way to determine whether there is a C-wire is to look at the connections on the HVAC control board. It is necessary for the power to the HVAC unit to be turned off before the cover is removed; some control board covers may be secured with screws. If there is a terminal labeled with the letter C on the HVAC control board, but no wire is connected, then there probably is no C-wire, and one should be installed.

If there is no C-wire coming from the system, an additional wire can be run from the HVAC system to the thermostat. However, it may be infeasible to fish a line through a long run that is not fully accessible. When running a new wire is not feasible, an external transformer can be installed for a Wi-Fi thermostat instead. The transformer must be correctly wired to the Wi-Fi thermostat and then plugged into an electrical receptacle.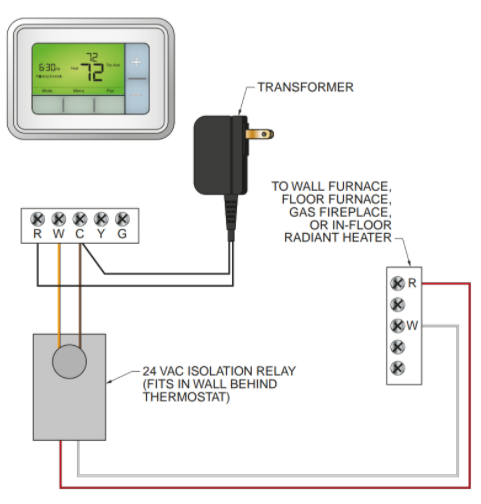 Figure 4. Thermostats can be powered by a separate transformer when no 24 V DC supply exists.
Another option is to use an add-a-wire device when the thermostat being replaced is only a four-wire device and a C-wire is needed. By combining two of the relay wires, the add-a-wire device frees up a dedicated wire for a C-wire connection. The add-a-wire device provides a return wire for two devices, which are usually the furnace and air conditioner because they are typically turned on at the same time. Add-a-wire device kits are installed at the HVAC control board.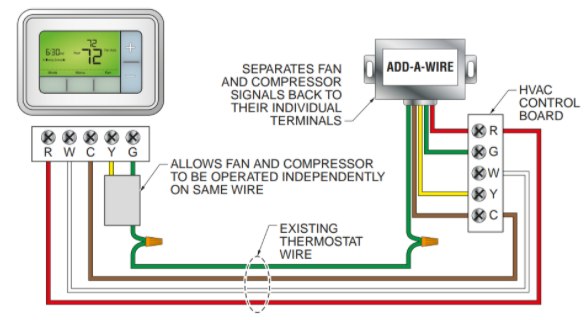 Figure 5. Add-a-wire devices can be used when there are only four wires.
There are no standards for wire colors used with thermostats. Although there are typical guidelines for wire color connections, these may vary by manufacturer. Regardless of the color used, the connection lettering must match at the thermostat and the HVAC control board.

Working on a thermostat has killed many transformers! Crossing or touching the control wires together too long will create high amperage in the transformer and burn it out. Avoid this by placing a fuse in line with the transformer's secondary before working on the thermostat. For the standard 40-V A transformer, use a 5 A fuse. The maximum amperage load a 40-V A transformer can handle is 1.67 A. The 5 A fuse is selected to protect against a direct short and not an overload condition.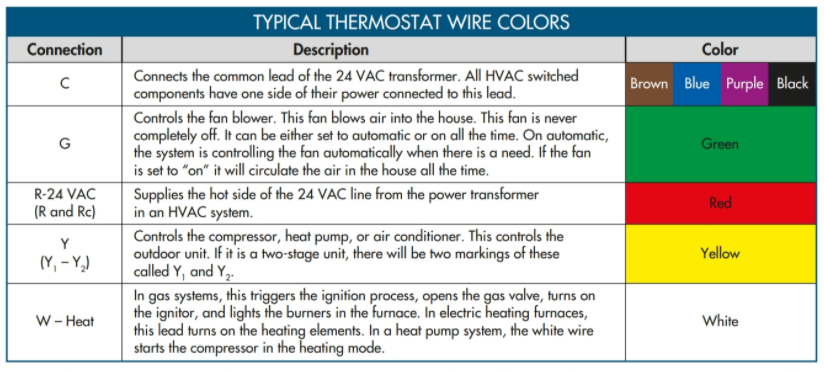 Figure 6. Usual wiring colors, although exceptions are common.

This can be resolved with a fuse holder with alligator clips on each end. Temporarily wire this series with the hot side of the transformer's secondary while working on the thermostat. A blown fuse is easier and cheaper to change than a transformer.

Touch screen

Smart thermostats have an LCD touch screen that allows for easy use of controls. A touch screen thermostat is shown in Figure 8. The common display options include:

✔ Temperature setting

✔ Indoor temperature and relative humidity

✔ Fan control: auto, on and off

✔ Outdoor temperature

✔ Time and date or day

✔ Dirty filter alert


Zoned systems

One helpful aspect of some smart thermostats is that they can create different zones in a home. Most smart thermostats offer multi-room or multi-zone control, so different temperatures can be configured for separate rooms, although this feature varies by model.

Each thermostat regulates cooling and heating independently in zoned systems to cool or heat various areas of the house. The thermostats in the zoned systems are able to monitor the same cooling and heating system, or each thermostat may monitor its own system. When one system is controlled by several thermostats, the house is divided into zones with dampers in the ductwork. When one zone requires to be heated or cooled, the damper for the ductwork opens in that zone and directs the cold or warm air to that zone. Zone relay panels are used to coordinate zoning with dampers.

Alternatively, smart thermostats may permit homeowners to address temperatures of individual rooms. This is done by the user or the AI determines which rooms do not need to be included in the current heating cycle. For example, a bedroom is likely to be unoccupied during the day, and its temperature can be ignored. But the home office will need to be heated to a comfortable temperature. Regardless, the heating system will heat the entire house, but will only monitor the office temperature - at least until the program changes.