Not only do different foods have distinctly different tastes, they also make very different sounds when they're being chewed. Wenyao Xu, a computer scientist from the University at Buffalo, is using those different sounds to create a library of the sounds that foods make as they're bitten and swallowed.
Why? Well, Xu and a team of researchers from Northeastern University in China are using the information as part of a software package that will work in conjunction with their newly developed food-tracking necklace called AutoDietary.
The wearable is similar to a Fitbit, but instead of tracking calories burned, it monitors caloric intake, all from right around the user's neck.
Prototype of the AutoDietary food-tracking system. (Image Credit: University at Buffalo)
"There is no shortage of wearable devices that tell us how many calories we burn, but creating a device that reliably measures caloric intake isn't so easy," said Xu, PhD, assistant professor of computer science in UB's School of Engineering and Applied Sciences.
AutoDietary is worn like a choker necklace and comes equipped with a tiny high-fidelity microphone that's about the size of a zipper pull in order to record the sounds made during the acts of chewing and swallowing. That data is then sent to a smartphone via Bluetooth, where food types are recognized.
During testing, the researchers gave 12 test subject water and six types of food: apples, carrots, potato chips, cookies, peanuts and walnuts. AutoDietary was able to accurately identify the correct food and drink 85 percent of the time. (Listen to the different chewing sounds here.)
Xu envisions that the device could one day be used to assist those with diabetes, obesity and bowel disorders by allowing them to better monitor their food intake and manage their conditions.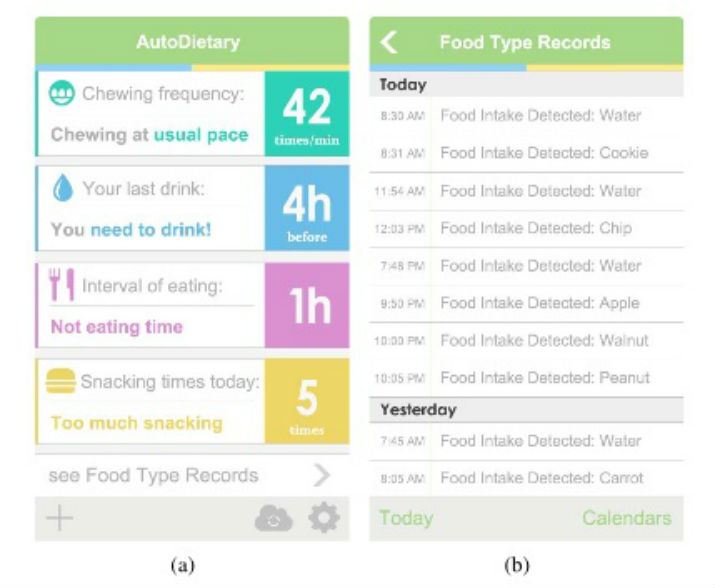 Prototype display of the mobile app for AutoDietary. (Image Credit: University at Buffalo)
He will continue to build upon his library by testing different foods and recording the sounds they make, as well as refine the algorithms used to differentiate the foods to improve AutoDietary's ability to recognize them.
Although the device has the potential to help people, Xu is aware of the limitations that come along with it. For example, it cannot tell the difference between frosted flakes and corn flakes or distinguish the ingredients of complex foods such as soup or chili.
To overcome this challenge, Xu plans to develop a biomonitoring device that would work in conjunction with AutoDietary to determine the nutritional value of the food via blood sugar levels and other measurements.
The data would be sent to a user's smartphone, where he or she could receive suggestions for healthier eating.