March 14 is Pi Day, the day science-buffs and engineers celebrate the ratio of the circumference of a circle to its diameter — which is approximately 3.14159, also called Pi. To celebrate the day, a new device that accompanies the Raspberry Pi was announced.
Hobbyists, makers, and developers can now do even more with their Raspberry Pi thanks to this 314 GB HDD developed by Western Digital Corporation's internal team of innovators, called WDLabs, that was put together to create new products for emerging customers and markets.
The WD PiDrive 314GB storage device was created to serve the Raspberry Pi community with low-power USB operation, affordability, reliability and ease of integration.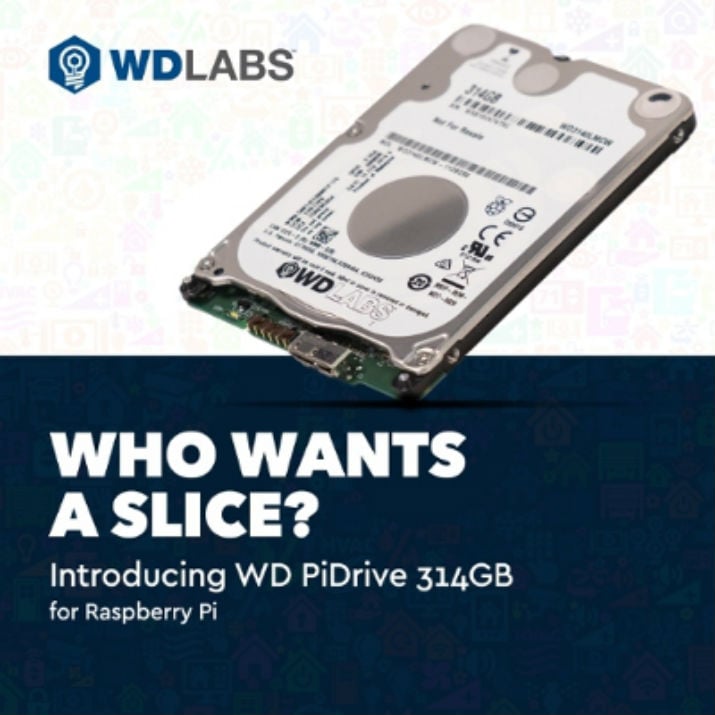 Western Digital offers growing Raspberry Pi community a new 314GB drive (Image Credit: Western Digital)
"Adoption of Raspberry Pi computing devices is expanding at a tremendous rate, reaching eight million units in about four years. However, the millions of Raspberry Pi users are finding limitations from data storage devices (SD card, USB hard drive or cloud storage) originally designed for other applications," said Dave Chew, chief engineer of WDLabs.
The device was designed to overcome barriers experienced by Raspberry Pi users' hard drive options, such as affordability, power loading and system set-up, while maintaining hard drive characteristics like mass-storage value, high data integrity and reliability.
"With the extended capabilities of Raspberry Pi 3, we can't wait to see what new projects our community comes up with," said Eben Upton, chief executive officer, Raspberry Pi. "WD PiDrive 314GB gives our members a low-cost, purpose built hard drive solution that helps them develop even more innovative and unique ways to use Raspberry Pi."
The WD PiDrive 314GB device is based on Western Digital's high-volume 500GB platform with design changes made specifically for Raspberry Pi. Customizations made to the drive's magnetic recording and electrical system operating set-points align with Raspberry Pi's USB data and power design to reduce the electrical power load of the hard drive on Raspberry Pi, while still maintaining sufficient performance to deliver maximum USB data transfer rate. Platform design flexibility and the manufacturing tuning process enabled WDLabs to create this specialized product for Raspberry Pi efficiently without compromising quality and reliability.