This week, on the fourth anniversary of the launch of the original Raspberry Pi, the Raspberry Pi Foundation decided to celebrate in a special way, by releasing something new: Raspberry Pi 3, with a 50 percent power boost over the Pi 2 and the same $35 price as the original.
The latest version of the credit card sized (85 x 56 x 17mm) computer features:
• A 1.2GHz 64-bit quad-core ARM Cortex-A53 CPU (claimed to provide about 10x the performance of Raspberry Pi 1)
• Integrated 802.11n wireless LAN and Bluetooth 4.1 via a Broadcom BCM43438 wireless "combo" chip.
• 1 GB DDR2 Memory
• Compatibility with Raspberry Pi 1 and 2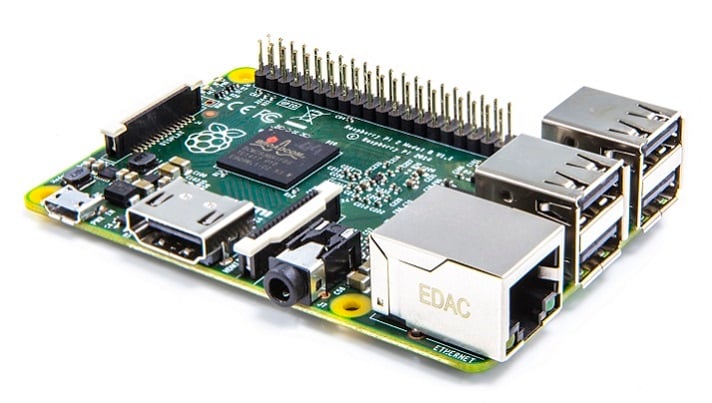 Raspberry Pi 3
Inside Raspberry Pi 3, you'll find a new SoC from Broadcom designated BCM2837. While it has the same architecture as its predecessors BCM2835 and BCM2836, the 900MHz 32-bit quad-core ARM Cortex-A7 CPU has been replaced by a custom 1.2GHz 64-bit quad-core ARM Cortex-A53. Combining a 33 percent increase in clock speed with various architectural enhancements, it is said to provide a 50-60 percent increase in performance in 32-bit mode versus Raspberry Pi 2, or roughly a factor of ten over the original Raspberry Pi. (Note the 10x is a typical figure for a multi-threaded CPU benchmark such as SysBench. Real-world applications will see a performance increase of between 2.5x for single-threaded applications and >20x for NEON-enabled video codecs, according to the Raspberry Pi Foundation.)
Like the Pi 2, the newest version has 4 USB ports, 40 GPIO ports, a full HDMI port, an Ethernet port, a Micro SD card slot and a VideoCore IV 3D graphics core.
The wireless functionality of Raspberry Pi 3 fits into very nearly the same form-factor as the Raspberry Pi 1 Model B+ and Raspberry Pi 2 Model B; the only change is to the position of the LEDs, which have moved to the other side of the SD card socket to make room for the antenna.
All of the connectors are in the same place and have the same functionality, and the board can still be run from a 5V micro-USB power adapter (though with more processor speed and on-board connectivity, you'll need more power -- the Foundation recommends the upgraded switched power source, a 2.5A adapter, especially if you want to connect power-hungry external USB devices to the Raspberry Pi).
As the new Pi 3 brings more processing power and on-board connectivity, it is aimed at Internet of Things (IoT) designs. In an interview with the BBC, Pi founder Eben Upton noted that the two main things people do with their Pi are "use it as a PC replacement or use it as an embedded computer. Upton pointed out that "the Pi 3 is doubling down on both those things rather than going looking for new things to do."
Sales of all variants of Pi have now reached 8 million units. Within its audience, the Raspberry Pi Foundation observed, are industrial customers who will want to stick with Raspberry Pi 1 or 2 for the time being, and as such they intend to keep building these models "for as long as there's demand". Raspberry Pi 1 Model B+ and Raspberry Pi 2 Model B will continue to sell for $25 and $35, respectively. Model A+ continues to be the $20 entry-level Raspberry Pi, although the Foundation expects to produce a Raspberry Pi 3 Model A, with the Model A+ form factor, during 2016.